At Naturepedic, we're big fans of customer and friend Adrian Grenier, whose charity work with The Lonely Whale is changing the way people think about our world's oceans. He has been making small changes in his life and inspiring others to do the same, including sleeping organic on a Naturepedic! Those small steps add up to a big environmental impact. In honor of Earth Month, we got in touch with Adrian to ask him some questions about his commitment to sustainability and environmentalism.
Why do you sleep on a Naturepedic mattress? When I joined the Lonely Whale team I started studying how products we use every day affect ocean health. One of the biggest was mattresses. I learned that most commercial mattresses use flame retardants. These chemicals show up in sea creatures, particularly dolphins and killer whales who collect the chemicals in their blubber. What's even more devastating is that these chemicals are bioaccumulative, which means they stick around and build up. Small amounts are found in tiny creatures but as bigger creatures eat the tiny creatures, you start to get a build up of chemicals in larger animals.
What inspired you to co-found Lonely Whale? I decided to co-found the Lonely Whale Foundation after seeing the power the Lonely Whale's story had to connect all of us to our oceans. Sometimes climate change can seem overwhelming but I think that 52 has helped us recognize that and connect with one another, and ourselves, to make changes. We realized that filming the documentary alone wasn't enough. It's my hope that connecting our children, and also our global community, with the Lonely Whale story through education and awareness programs we will inspire change. As we grow our community we will inspire both individuals and organizations towards making significant changes to support ocean health.
Why is educating our next generation about ocean health so important? Today's children are tomorrow's environmental leaders. The more we can educate the next generation about the state of the ocean and what they can do everyday to make a difference, the better prepared they'll be to ensure ocean health improves and stays healthy for multiple generations.
If someone wanted to get involved with Lonely Whale, how could they do that? #TeamLonelyWhale would love to have you join our Pod. Head to www.lonelywhale.org and sign up to learn about our work or join us at an event. We also want to hear your stories of action to improve the oceans. Tag #TeamLonelyWhale in posts to share your efforts in ocean conservation and inspire others. You'll join thousands around the world who are taking small steps in their daily lives to help keep our waters blue and green.
What is something everyone can do on their own this earth month to help improve the oceans' health? There are three simple things you can do during earth month to make a difference: 1. Say yes to products that DON'T use environmentally damaging chemicals 2. Say no to single-use plastics 3. Say yes to sustainable seafood.
Outside of Lonely Whale, tell us about your personal environmental effort. I'm committed to environmental sustainability in my both my personal life and through my business pursuits. On a personal level I've retrofitted my house with all natural products including Naturepedic mattresses, sustainably harvested wood for my floors and even cotton denim insulation in my walls. I take Uberpool whenever it's available and have eliminated single use plastics from my daily living. I'm also involved in helping teach high schoolers how to make sustainable food choices through the Mobile Kitchen Classroom. Even though I also support social entrepreneurship through SHFT and as the Dell Social Good Advocate, I know there is more that I can do. Being part of the Lonely Whale movement is a continued step in that direction.
Thank you, Adrian!
It was a pleasure working with Adrian Grenier for this Earth Month interview. While we tend to focus on the benefits to your family and your home when switching to natural and organic products, it's important to never forget that the more people make small switches, the bigger the impact on our whole planet. Please visit lonelywhale.org to learn more today.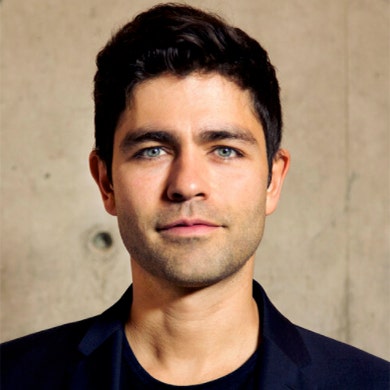 About Adrian Adrian Grenier is an actor, filmmaker, entrepreneur and social advocate born in Albuquerque, New Mexico and raised in New York City. As an actor he is best known for playing the iconic role of A-list movie star Vincent Chase in eight seasons of the HBO smash hit "Entourage," broadening his work behind the camera as a documentary filmmaker through his company Reckless Productions. An investor and advisor to emerging technology ventures, Grenier is a passionate environmentalist who has actively supported organizations focusing on habit-changing education. In 2009 he co-founded SHFT.com, a content creation/curation hub promoting sustainable green living through film, design, art and other platforms. Its projects include the SHFT Mobile Kitchen Classroom, which provides New York City high school students opportunities to engage in experiential lessons around food, health and sustainability. Grenier also serves as a social good advocate on behalf of Dell, championing healthier, eco-friendly choices through digital storytelling and advocacy. Additionally, in December 2015, Adrian co-founded the Lonely Whale Foundation, whose mission is to raise awareness of the problems facing the oceans and marine wildlife and inspire people to take a stand against further damage.
---