For a lot of expecting parents, daydreaming about the perfect nursery is tons of fun. Woodland creatures or smiley bumblebees? Calming greens or vibrant yellows? It's that magical space where creativity and Pinterest meet your biological nesting instincts.
Super fun, right? Sure… and super stressful at times.
Nursery planning can become overwhelming when you start to dig into things like sleep safety concerns for baby and the questionable chemicals that are used in a lot of household items, including the furniture you need for your baby's nursery. From paint and carpet choices to wooden furniture and plastic toys, there's a lot to consider in terms of whether or not your nursery decor will negatively impact the indoor air quality in your child's room.
Here's the good news: Naturepedic can help you cross a few items off of your list with confidence. For example, all of our certified organic crib mattresses are certified non-toxic, too. Same goes for our crib sheets, breathable covers and protector pads. With Naturepedic, you can rest assured that you're purchasing comfortable sleep accessories that are crafted without harmful chemicals.
So that covers what you put inside of the crib – easy-peasy! However, what about the crib itself? Does it pose a problem? How can you make sure you're getting a non-toxic baby crib?
Why Buying a Non-toxic Crib Is Important
Even though something as simple as a wooden crib may seem like a fairly straightforward item, the truth is that, depending on the materials used, your baby's crib may not be as non-toxic as you think. A lot of cribs release volatile organic compounds (VOCs), which are chemicals that "off-gas" into the air you – and your baby – breathe throughout your home. Your baby's crib may contain toxic solvents and dyes, as well as known carcinogens like formaldehyde.
What Are the Risks of Not Choosing a Non-toxic Crib?
Unfortunately, a lot of people are a little too willing to subscribe to the logic that "they wouldn't be allowed to sell it if it weren't safe." The truth is that the VOCs detected in conventional baby cribs can pose a number of short- and long-term health concerns, including:
Eye, nose and throat irritation

Headaches

Nausea

Decreased coordination

Liver and kidney damage

Central nervous system issues

Some cancers
While the medical community is still learning a lot about the relationship between environmental toxins and health, many believe that babies and children can be even more susceptible to VOCs than adults due to their increased respiratory rates and organ systems that are still developing.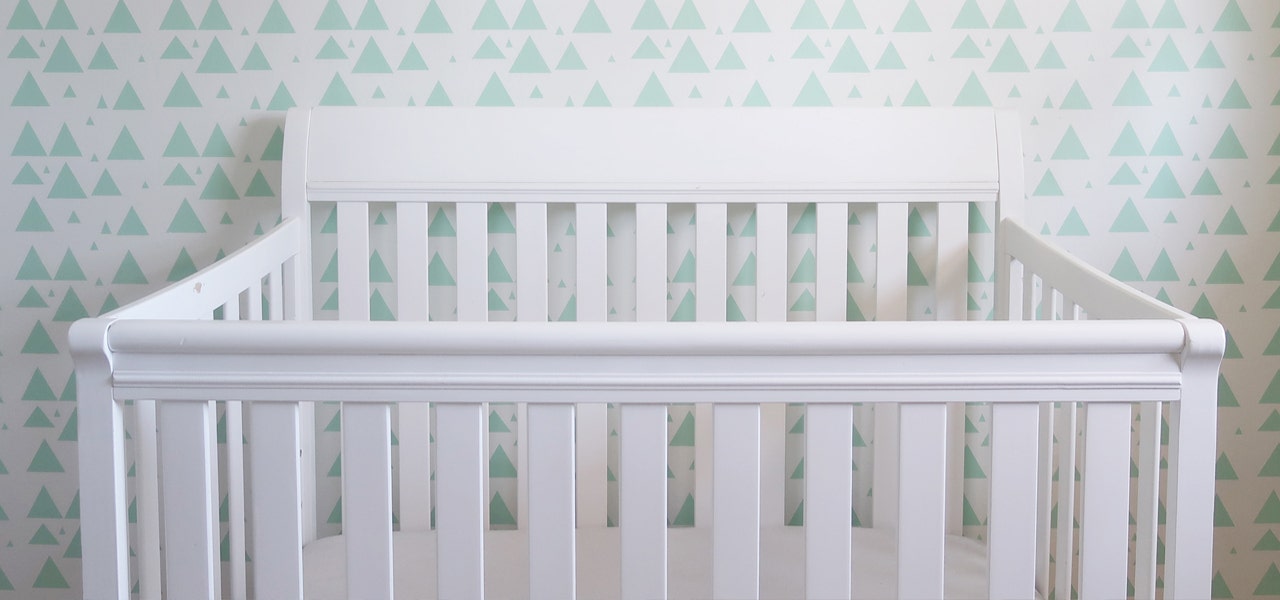 4 Considerations for a Non-toxic Baby Crib
For the first year of your baby's life, it's normal for them to spend up to 16 hours a day sleeping. That makes it even more important to make a non-toxic crib a priority when you're nursery shopping. Here are a few things to consider:
1. Wood
For starters, look for a crib made of wood as opposed to trends like acrylic, PVC or any other form of plastic – including the addition of plastic teething guards. Second, you'll want to make sure it's solid wood and not manufactured or composite woods that contain formaldehyde and other questionable substances. Steer clear of:
Laminate

Particleboard

Plywood

Medium density fiberboard (MDF)

Other types of engineered wood
Solid hardwood, especially if it's sustainably sourced, is the best option. However, this can get pricey. Pine, as a 100% solid softwood, is also a safer material in terms of chemical emissions.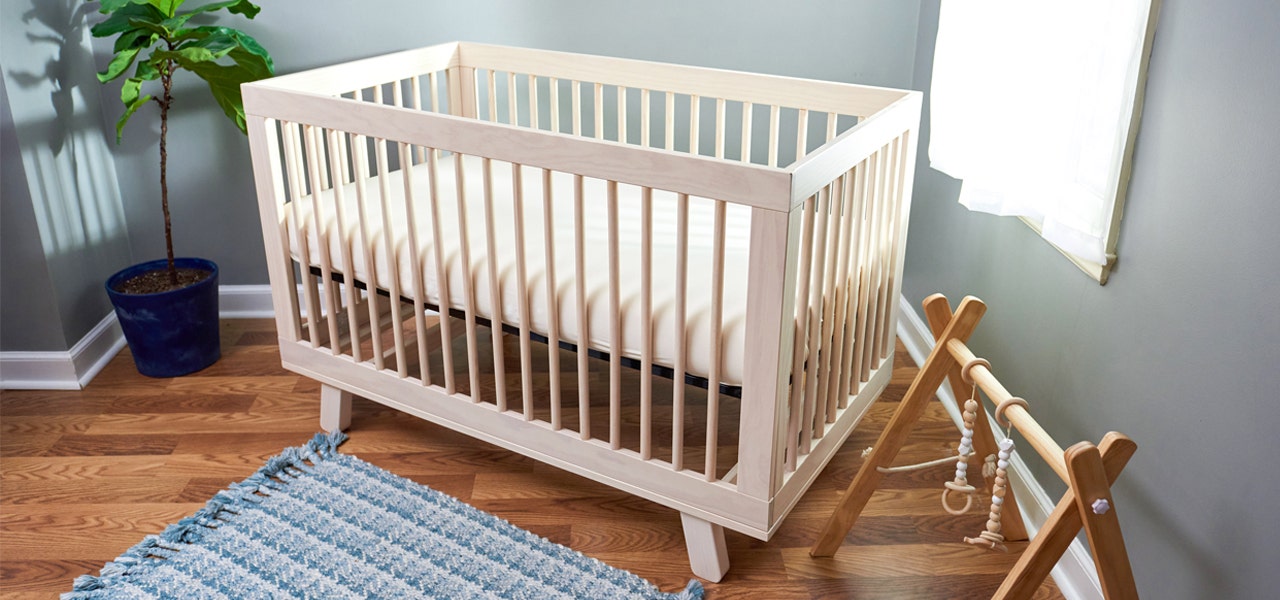 2. Paints and Varnishes
Ideally, a non-toxic crib should be unfinished solid wood. This includes clear, colorless finishes, unless you know they are non-toxic, e.g. a natural linseed oil finish. Make sure you vet any potential finishes including safe-sounding terms like "water-based" as these can still include harmful chemicals. If your baby's crib is painted, this may be OK, but you'll need to ensure the paint used doesn't contain:
Lead

Phthalates

Toxic solvents

Dyes

And other VOCs
3. Glues and Adhesives
Cribs can have a number of components involved in their construction and these are commonly held together with glues and adhesives. A lot of wood glues contain formaldehyde and other VOCs. Make sure any adhesive used is free of these chemicals. Or, better yet, look for a crib that avoids glues and adhesives altogether.
4. Credible Third-party Certifications
When it comes to finding non-toxic items, it helps a lot to rely on the credible organizations that exist specifically to help consumers navigate the non-toxic world. The non-profit organization MADE SAFE® is an invaluable, science-based resource that vets consumer products based on a banned list spanning over 6,500 substances.
However, while MADE SAFE certifies a wide range of baby products (like all of our mattresses and bedding!) as non-toxic, it does not currently list any cribs. Instead, you can look for the GREENGUARD Gold certification for low chemical emissions and can check to see if your crib is UL Formaldehyde Free verified.
Looking for some guidance on the rest of your nursery? This MADE SAFE Baby Registry is an excellent starting point. Make sure you check out our Baby collection, too!
---