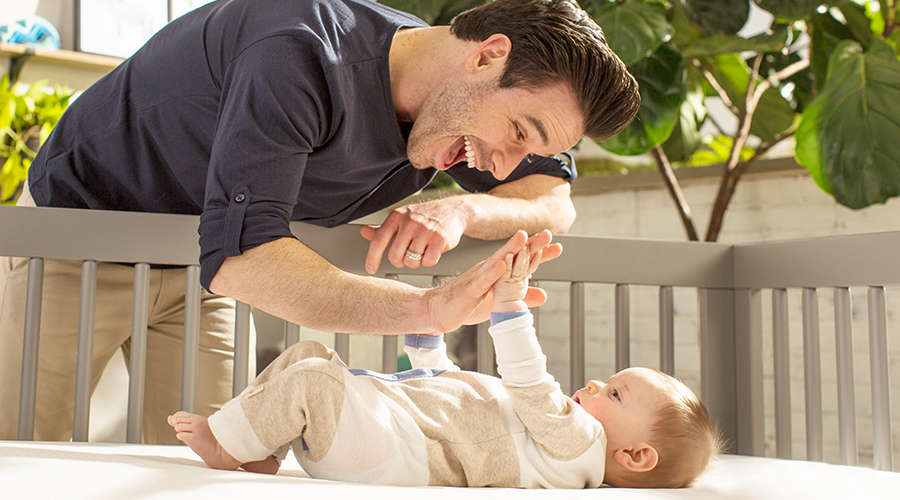 "If it feels good to me, then it's okay for my baby."
Is this really a good rule of thumb when it comes to determining how firm is firm enough for your baby's crib mattress?
Unfortunately, this isn't a trustworthy metric unless you like a very firm mattress.
Because babies are still growing, their spines and bones need much more support than adults do, which is why a firm mattress is essential to your little one's safety while sleeping.
While there are no precise rules about crib mattress firmness, there are guidelines confirmed by research to help you choose the right one.
How firm should my baby's crib mattress be?
The Consumer Product Safety Commission (CPSC) recommends that a baby mattress be firm and flat. Furthermore, the mattress should be tight-fitting and properly installed so there is no chance of your baby getting trapped between the mattress and the crib. Extra space on any side is dangerous!
Consumer Reports also recommends buying the firmest crib mattress you can find. In fact, they address the exact comment we kicked off this blog with: "Don't worry that it may feel too firm. If it feels good to you, it's too soft for your baby."
According to the American Academy of Pediatrics, a crib mattress needs to be firm enough that it doesn't conform to the shape of your baby's head.
More specifically, the mattress should be between an eight and a 10 on the mattress firmness scale. A crib mattress needs to be firm because infants lack motor control in their early stages of development and may sink into a too-soft mattress and suffocate.
To test a crib mattress to determine whether it's firm enough, press on the mattress in the center and at the edges. The mattress should snap back readily and shouldn't conform to the shape of your hand if it's indeed firm enough for your baby.
We take crib mattress firmness seriously
Every Naturepedic crib mattress offers the perfect amount of firmness for your baby, making for a safer sleep environment.
Each of our crib mattresses is made with our organic cotton batting, which creates a mattress surface that's extremely comfortable for your baby without sacrificing on firmness. Soft, comfortable, and firm – just right!
Our goal is always to make the purchasing process easier for parents. You can view our full selection of organic crib mattresses on our website.
Let us know if you have any other questions we can answer for you!
You can reach our customer service team at 1.800.917.3342 or email them at cs@naturepedic.com from 9am-5pm EST, Monday-Friday.You can also find us on Facebook, Instagram, Pinterest, or Twitter.
---