5 Safety Tips For Parents During Baby Safety Month
5 Safety Tips For Parents During Baby Safety Month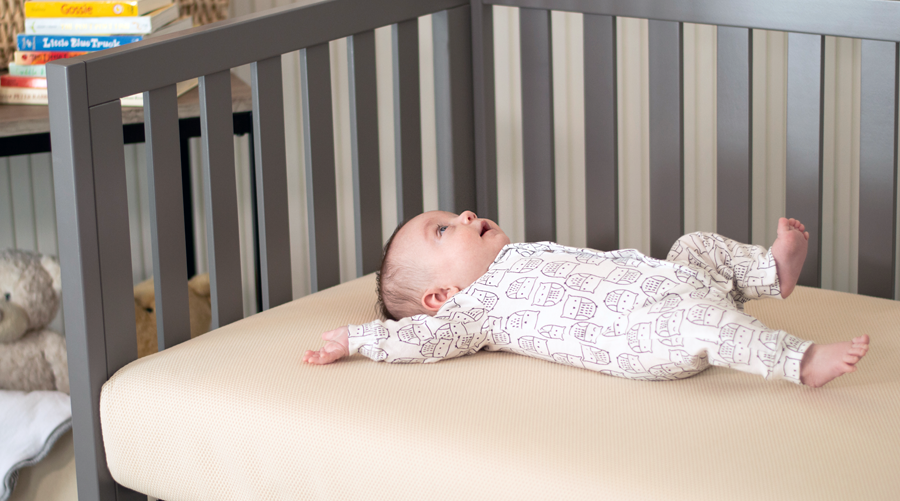 It's officially September and that means it's Baby Safety Month—a whole month dedicated to remembering and sharing tips for keeping your bundle of joy safe and sound.
At Naturepedic, we believe the health and safety of your child should not be negotiable. We also know how challenging it can be to baby-proof everything in your child's life. It's impossible to be aware of every little risk, and that's okay.
That's why this month is the perfect time to brush up on your baby safety. By being aware of some of the lesser-known dangers in your family's day-to-day life, you can make sure your little one stays safe.
Beware of the Stairs
You're probably well-aware of the dangers that stairs present for young children. Using baby gates at the top and bottom of your stairs is essential for optimal safety. As all parents know, kids are fast. It only takes one second for your baby to climb up a few stairs and just as quickly come tumbling down. Until your child is old enough to start practicing on the stairs, baby gates will keep the stairs totally off limits.
Safety While Sleeping
At Naturepedic, we care deeply about sleep and how safe your baby is while they're drifting off to dreamland. If you haven't thought about the safety of your baby's crib, a good place to start is with their crib mattress. Ensure the mattress has a snug fit by allowing for no more than two fingers between the mattress and the bars/side of the crib. An organic mattress pad is also important for keeping the crib clean and hygienic. Finally, keep small objects out of your baby's crib so that you don't risk any choking hazards.
Hide Those Cords
Cords are extremely dangerous for babies and are strangulation hazards. To keep your baby safe in their nursery and in all bedrooms, make sure any window coverings are cordless. Tying up drapery and blind cords so that they are near the top of the window is key for protecting your little crawler. Other cords, including ones from your baby monitors, cell-phone chargers, and lamps, should also be kept out of reach of your baby at all times. Doing so will not only prevent strangulation but also potential injuries from electrocution.
Check Out the Car Seat
After you've made sure your baby's car seat is the correct size, you'll need to know how to install it properly. If you aren't positive that your installation is correct, you can search the National Highway Traffic Safety Administration's (NHTSA) for safety seat inspection locations. That way, you can have a certified inspector give you advice on your car seat's child restraints and other car seat safety tips while riding in the car.
Think Twice about Furniture
Though you've probably already baby-proofed every possible item in your house for the safety of your little one, it's a good idea to think twice about furniture. Bolting furniture to your walls with child brackets can save your child from falling off of a chair or table as they start to embrace their monkey-like climbing skills. Also, make sure your drawers have stops so they cannot be pulled all the way out and fall on your baby.
The safety of your baby is our top priority at Naturepedic, which makes Baby Safety Month extremely important.
During the month of September, we are donating $2 from every crib mattress purchase to the Max Cure Foundation, an organization that an organization that funds research for the development of pediatric cancer drug therapies.