Designing your child's nursery or toddler room is such a fun experience in the middle of one of life's most exciting milestones. Finding your personal style and combining it with timeless, child-friendly pieces is a serious mom goal.
Along with creating a space that is as warm and beautiful as you could possibly make it, safety and sustainability should also be a top priority. Choosing organic and eco-friendly pieces in your design will not only ensure a healthier environment for your child to grow and play in, but will also reduce your personal carbon footprint on the environment and can be the start of making green living a part of your lifestyle!
Why is this so important? When produced in an eco-friendly manner, natural materials do not contain the chemical additives that synthetic (man-made) materials do. Keeping the level of volatile organic compounds (VOCs) to the bare minimum in your little one's space is so important to achieving the best indoor air quality that you can.
While there is so much to research and consider, and decision-making can seem daunting with so many beautiful products on the market, integrating organic and eco-friendly materials into your own special space can be easy.
Now that I have you even more excited about creating a style-savvy eco-conscious space, (hello there green mama!) I've put together a few tips to help you go green in style!
1. Invest in Natural Furniture Pieces that Will Last
For furniture in the nursery, choose pieces from brands like Romina and Kalon Studios that sustainably harvest their lumber and use
Solid wood construction

Organic glues

Non-toxic, food-grade finishes
These pieces will be safer, most durable, and will last much longer. Additionally, look for pieces that rely on woodworking traditions, such as dovetail or tongue-and-groove joinery. This may eliminate the need for toxic adhesives altogether.
However, if adhesives can't be avoided, confirm with the manufacturer that using water or food-based, non-toxic glues their standard. The chemicals in adhesives can off-gas VOCs into the air, which affects the overall air quality in your home. Ensuring that the adhesives used are non-toxic will result in a healthier product.
2. Consider Using Multi-purpose Furniture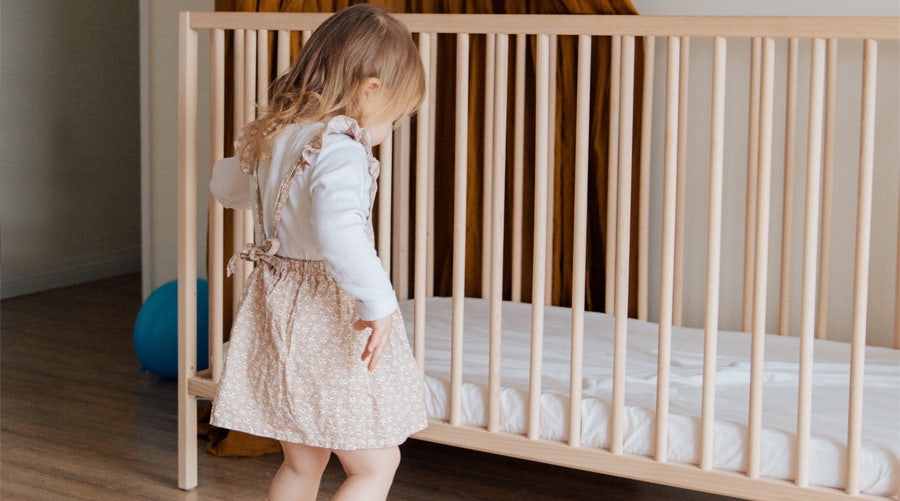 A changing table is always on the list of must-have items in a nursery. However, you'll want to ditch it before your baby starts making moves, rolling over, and eventually outgrowing it which makes this piece short-term.
Instead, choose a large chest or full size dresser and add a changing tray on top. This will allow you to keep the furniture piece in the room for the long haul – well past baby. There are many convertible cribs on the market as well. Some of these pieces can transition from a crib to a toddler, like Naturepedic organic 2-in-1 mattresses do! If you have the space for extra seating, consider a daybed with storage drawers or a pull-out bed underneath. In addition to being resourceful, these muti-purpose items not only save space and money; they ultimately cut down on production materials, too. And that's something that's good for you and the earth.
3. Choose a Zero-VOC, Water-based Paint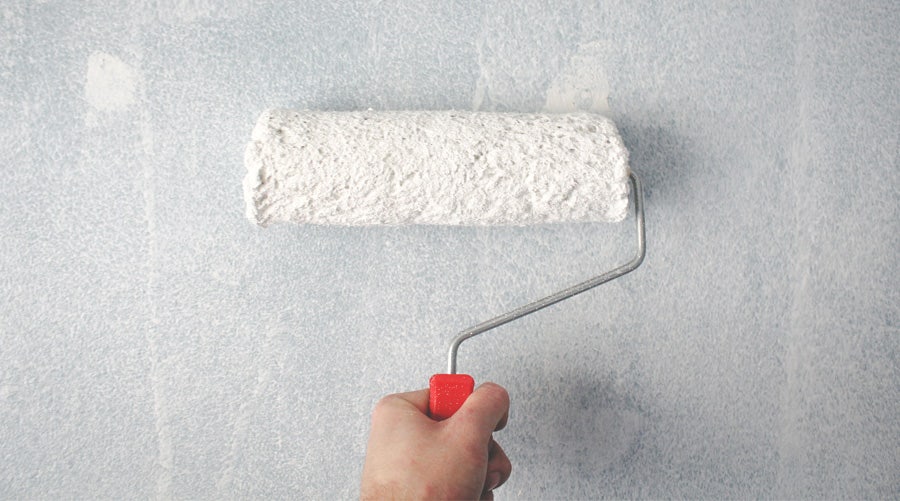 A fresh coat of paint can transform any space and is one of the easiest ways to update a room, but knowing which paint to choose is critical. Household paints are one of the leading contributors of poor indoor air quality and may contain thousands of chemicals and hundreds of known carcinogens and toxins. The strong odor you smell from a freshly painted room is the off-gassing of VOCs from the paint itself.
Steer clear of conventional paints. Instead, look for brands that don't use chemicals that can be hazardous to your health and the environment. Natural, water-based, low to zero VOC paints are what you should look for. Luckily, there are several brands that offer safer alternatives while still maintaining a wide range of colors for you to choose from. AFM Safecoat is a favorite as their product range is among the safest, most environmentally friendly building materials on the market.
4. Read Your Labels Carefully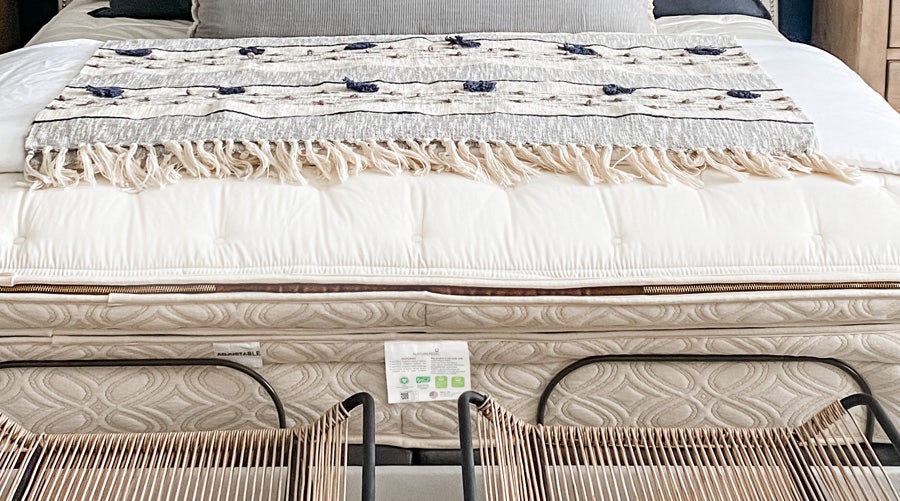 Environmentally-friendly and "green" production has become a selling point for a lot of companies. If a company is truly producing an eco-friendly and non-toxic product, they'll be as transparent as glass and willfully print the entire ingredient list on their packaging or call it out on their website.
Turn the product over to read the back label or look for a tag or website description listing ingredients and any certifications that would qualify that product. Naturepedic goes the extra mile to ensure every one of their products (and the process of manufacturing them!) are certified to the highest organic standards. Without certifications, it is up to you, the consumer, to ask the right questions and determine if the item's production standards are acceptable for your family.
5. Look for Safety Certifications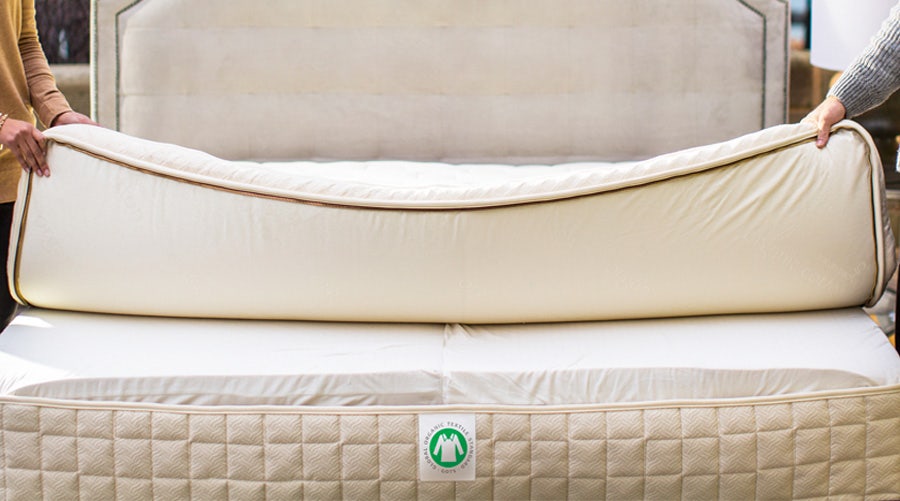 Health and sustainability have become an important topic globally. People now expect and demand more from suppliers as we're becoming more aware of the effect our choices can have on both our health and the environment. While this demand continues to grow, more and more brands are doing their part to offer sustainable and healthier options in their product lines.
Certifications that a product receives can show that the product has gone through and met some of the world's most rigorous and comprehensive standards from harvesting of the raw materials, through environmentally and socially responsible manufacturing, in order to provide a credible assurance to the end consumer. Each certification carries specific requirements to be met. Below are a few key certifications that Naturepedic's products have received, which are relevant to get your research and shopping started:
Global Organic Textile Standard (GOTS)

Global Organic Latex Standard (GOLS)

U.S. Consumer Product Safety Commission (CPSC)

People for the Ethical Treatment of Animals (PETA)

Forest Stewardship Council / Rainforest Alliance

Organic Content Standard (OSC100)
6. Avoid Textiles that Contain Additives and Flame Retardants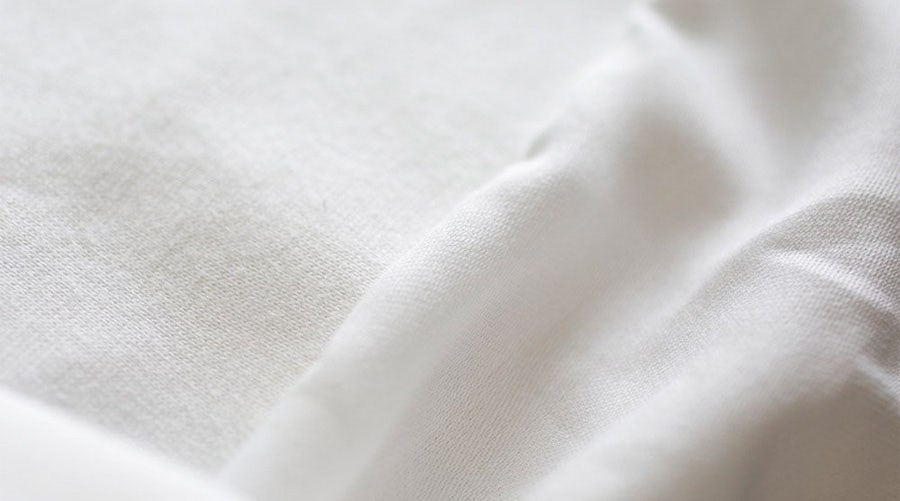 Twenty percent of all industrial pollution comes from the textile manufacturing process. Not only are many fabrics produced using harmful chemicals – such as formaldehyde, flame retardants, VOCs and heavy metals – the factory workers and the environment are also heavily impacted with exposure to these hazardous toxins, causing health concerns and polluting our water, soil and air.
Avoid fabrics that have been chemically finished to reduce your exposure. Selecting a natural, sustainable fabric for your nursing chair, seating and drapery is a huge step in the right direction. Choose natural, organic materials with a GOTS certification (meaning organic from farm to finish). These certifications are part of the solution, and any textile you purchase with these labels will bring you peace of mind.
Examples of sustainable fibers include:
Recycled cotton

Organic linen

Organic hemp

Flax

Tencel
Examples of fibers that are definitely NOT sustainable include polyester, nylon, acrylic, rayon and silk. If you are shopping retail for ready-made products, read the labels, look for the materials I mentioned above, and ask the sales clerk questions about material content. You'll be a pro in no time!
7. Stand Firm on Healthier Floor Covering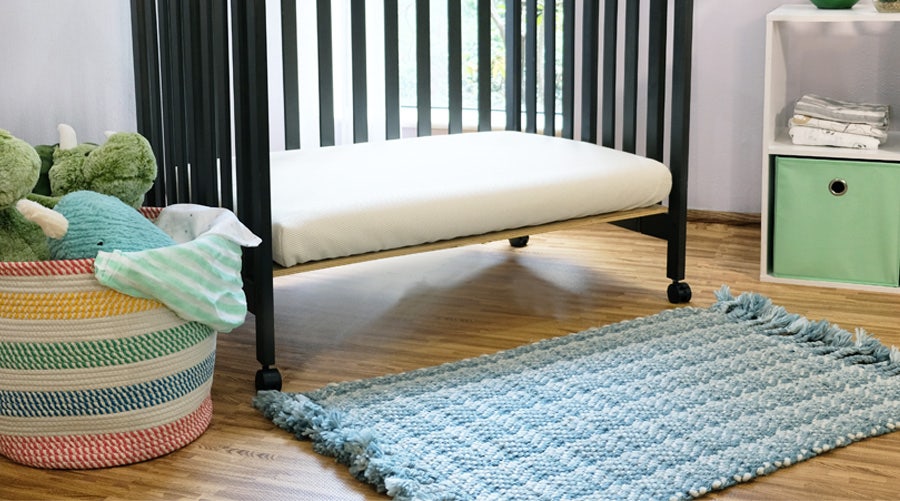 Your flooring occupies one of the largest areas of a nursery or kids' room, so being highly selective and eco-conscious with your selection is key. Most conventional carpets and rugs are produced with petroleum – a nonrenewable resource. They may contain nylon, acetate or polyester, which are all plastics and can off gas VOCs. Conventional carpets may also have been treated with a chemical stain protector or flame retardant.
Although this may sound defeating, if you know what to look for in a green carpet, it can still be an option. Your best choice for an eco-friendly, safe, and non-toxic purchase is with carpet or a rug made from untreated, undyed fibers and organic materials such as wool, jute, or seagrass. Earth Weave, Organic Weave and FLOR have fantastic options for you to take a peek at.
Ready to move on from carpet and change your style? Natural solid hardwood or recycled hardwood flooring is a great look in a nursery and would be a much more durable and cleanable option than carpet. Solid hardwood contains zero VOCs and will not off gas, making it an excellent choice! Cork flooring is another sustainable option with a unique look; although not used often, I can see it being amazing in a playroom environment.
8. Choose Healthier Sleep – Switch to an Organic Mattress and Bedding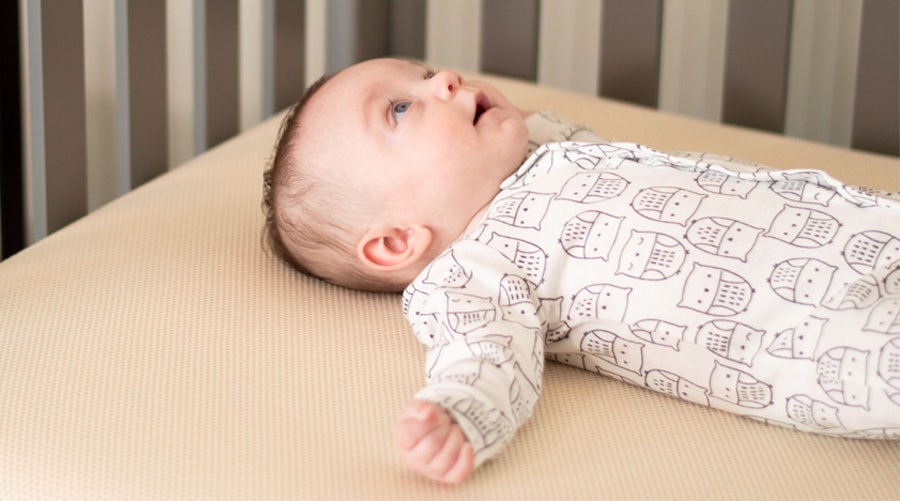 A non-toxic mattress is one of the most important items you will purchase for your baby's nursery. This is where they will spend most of their hours in their most fragile developmental years, so consider these items a priority and an investment. Most conventional mattresses are a major source of toxic emissions, constantly exposing your baby to unhealthy levels while they sleep. Select a mattress and bedding from brands that are committed to using sustainable and non-toxic materials — keeping your baby's sensitive skin and lungs safe from VOCs that may off gas from non-organic products. Look for certified organic materials that are made in the U.S.A. and certified by GOTS and GOLS. Of course, Naturepedic has an amazing line of high quality, non-toxic mattresses and pillows to give you and your baby better sleep.
9. Shop Local and Secondhand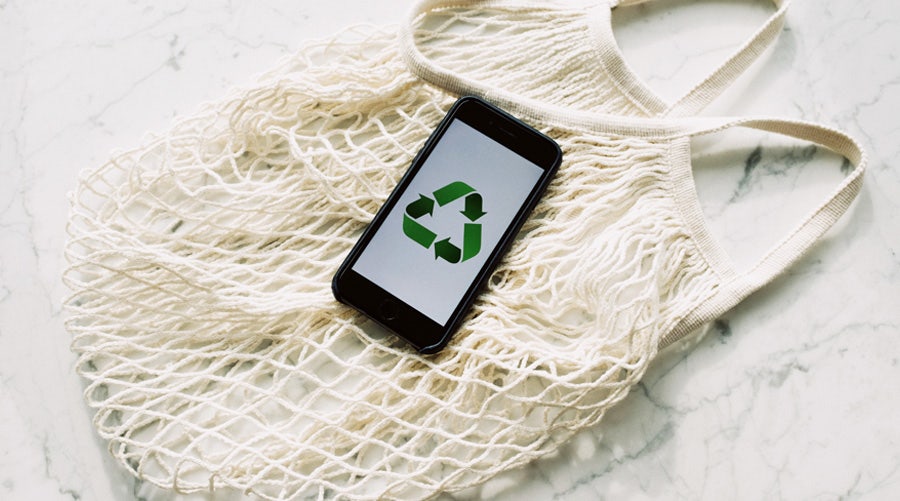 Last but not least, try to get as many materials as you can from vendors that locally source their products. Support stores that offer recycled or vintage items. Secondhand shopping is a go-to option for the eco-conscious – that's you!
These items are likely more cost-effective, have had time to off gas and you can feel good that you are doing your part in keeping them out of landfills longer. It's important to be savvy with your second-hand purchases in ensuring the items meet safety standards and regulations and do not have any recalls against them. I would recommend against buying a crib or mattress second-hand. Safety standards may have changed and the last thing we want is to include an unsafe furniture piece in your nursery. Making secondhand purchases or accepting an heirloom piece from a family member means you are making fewer "new" purchases. The fewer emissions from transportation it takes to bring those products to you, the better.
---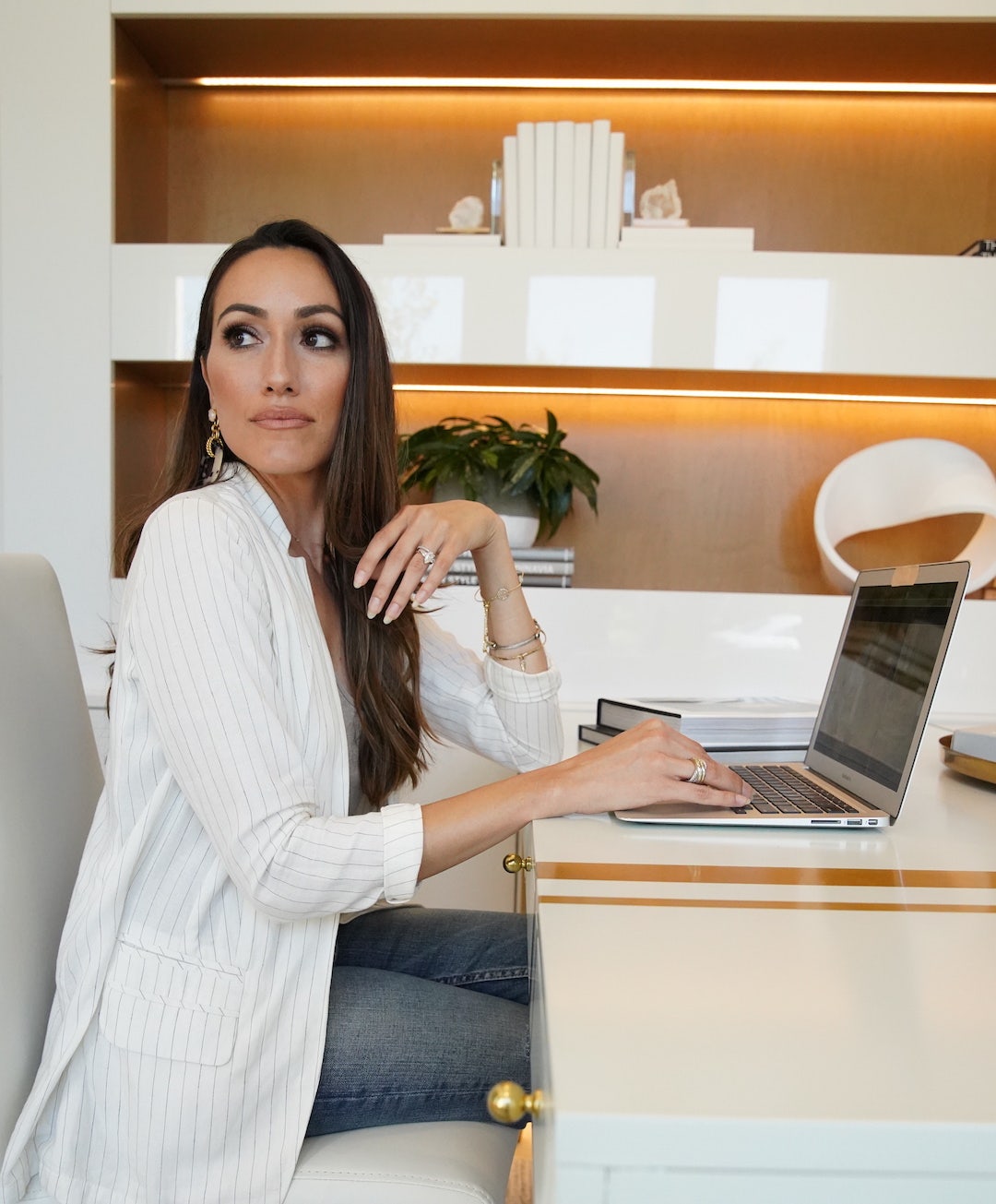 Stephanie DeBrincat is an interior designer and founder of Rockabye Mommy, a health-forward interior design firm specializing in posh yet practical nurseries and kids' rooms. Most recently, Stephanie has taken very conscious steps to push the boundaries of creativity while utilizing healthy, non-toxic materials and furniture in her designs. She approaches each project as an opportunity to create something special and one-of-a-kind for her clients. Her sophisticated children's room designs have garnered attention from publications such as Domino, Apartment Therapy, HGTV, California Homes, Style Me Pretty and Parents. Her passion is helping families create timeless and inspiring spaces for their little ones. You can view Stephanie's work and contact her at www.rockabyemommy.com
---