Thanks to our friends at MRC for sharing their knowledge this Earth Month! We hope you find this post helpful. Just remember, always check state and facility guidelines before making plans for mattress disposal or recycling.
---
You probably did a lot of research before buying the best mattress that supports you and improves your health. It's no small task. Of course, now you are likely wondering what to do with your old mattress and if an environmentally friendly disposal option exists. The good news is there are some great options like furniture banks and mattress recycling centers.
As a member of the Mattress Recycling Council (MRC) team, I'm passionate about connecting people who want to dispose of their mattress responsibly with good information on how to recycle mattresses and what options you may have near you. Let's go ahead and walk through some of the basics!
Can I Donate or Give Away my Old Mattress?
If your mattress is still in like-new condition, has the mattress label intact and is free from rips, tears or stains, donation may be an option. One place to start is the Furniture Bank Network which assists individuals and families across North America who are struggling with poverty or have limited finances and are trying to get back on their feet. You could also try calling local nonprofit organizations in your area like:
Habitat for Humanity

Goodwill

The Salvation Army

Vietnam Veterans of America
However, your state may have a used bedding law that would impact mattress donations, so always call these organization to see if they are able to accept your mattress.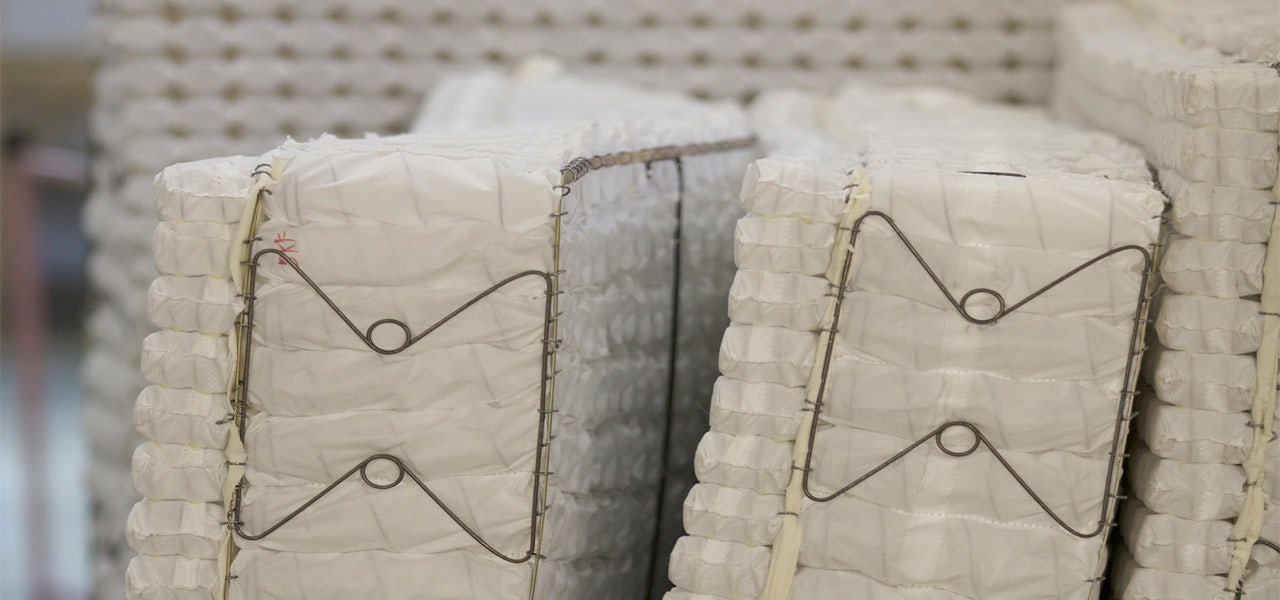 Before donating or giving a mattress away, keep in mind that numerous health benefits have been linked to proper sleep, which requires a supportive, clean mattress. So, a good rule of thumb is, if a mattress is no longer in good enough shape for you, it isn't going to benefit anyone else.
If you are unable to donate it, ignore the temptation to list your mattress on an online group or forum or to put your mattress on the curb with a "free" or "take me" sign assuming that it will go to someone in need. By putting your mattress on the curb without arranging for anyone to take it, you could end up contributing to illegal dumping in your community. Instead, look for a mattress recycling option.
Can a Mattress Be Recycled?
Across the United States there are small businesses and nonprofit organizations that are dismantling mattresses and making the valuable steel, foam, fiber and wood available for use in new products like:
Construction rebar

Carpet padding

Insulation

Garden mulch
In California, Connecticut and Rhode Island, the mattress industry operates statewide mattress recycling programs. In these states MRC works with mattress retailers to recycle the mattresses they've taken back from their customers. MRC also coordinates with the solid waste industry so that consumers can drop off mattresses at no cost at convenient locations, such as:
Local landfills

Transfer stations

Mattress collection events

Public works yards

Other designated locations
MRC then arranges transportation of these collected units to a recycler. Waste haulers that operate municipal curbside bulky item collection programs are also using MRC to divert mattresses to recycling.
MRC is educating consumers about their options and the importance of mattress recycling through its Bye Bye Mattress brand. If you live in these states, visit ByeByeMattress.com to see what's available in your area. If you live elsewhere in the country, view this list of mattress recyclers.
How is a Mattress Recycled?
According to MRC, up to 75% of a mattress can be recycled. Mattresses are dismantled by cutting around the perimeter of each unit to reveal the layers of materials. Foam, fibers and other soft commodities are compressed and baled. Metal springs are extracted and sent to scrap recyclers. Wood box spring frames are chipped for mulch or biomass fuel.

What if I Can't Donate or Recycle my Mattress?
If donating or recycling isn't possible, there are still responsible ways to dispose of your old mattress. Many mattress retailers routinely offer to pick up old ones during the delivery of a new one. You should discuss arranging take back during your purchase, as this could be part of the purchase price or offered for a small fee. You can also call your city, county or residential waste hauler to ask about bulky item collection in your community, many offer no-cost pickup upon request.
---
---