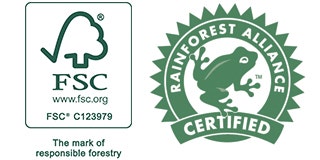 Forest Stewardship Council® / Rainforest Alliance

FSC practices mission based principles designed to promote health, limit environmental impact, and support social responsibility.
FSC sets standards for responsible forest management. FSC certification ensures that products come from responsibly managed forests that provide environmental, social and economic benefits. Rainforest Alliance assesses forest management and chain of custody operations using the FSC standards. FSC Chain-of-Custody certification traces the path of products from forests through the supply chain. All organizations need to be licensed or certified in order to use the FSC trademarks.
Rainforest Alliance has certified Naturepedic for Forest Stewardship Council® (FSC®) Chain of Custody for latex, wood and packaging that meets FSC standards. FSC certified latex is also explicitly approved by GOTS, the "gold standard" for health and safety, in our certified organic mattresses.
The FSC Principles and Criteria provide a foundation for all forest management standards globally, including the FSC US National Standard (v1.0) that guides forest management certification in the U.S. (https://us.fsc.org/en-us/what-we-do/mission-and-vision).
For more information, please visit fsc.org
View our certification from FSC See Certification.