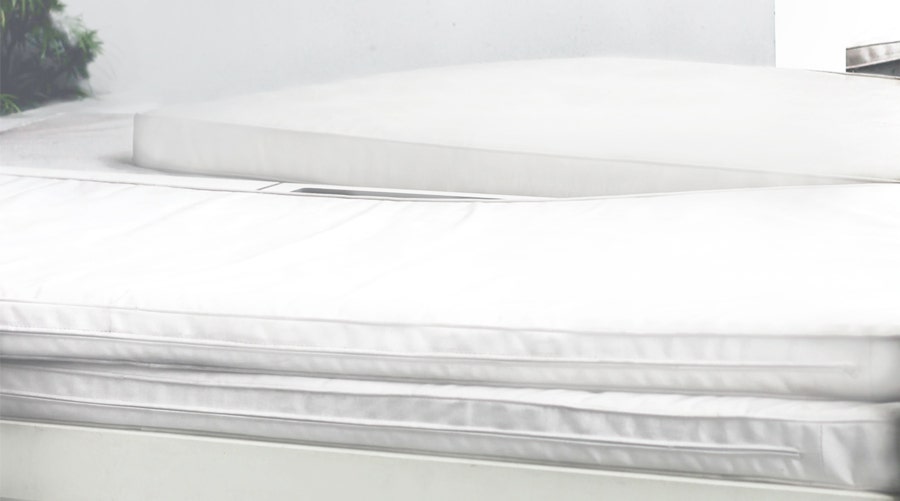 Perhaps one of the most shocking things about traditional mattresses is the amount of harmful materials they contain. When you're in the market for a new mattress that meets all of your expectations for comfort and quality, you might not be thinking about the materials (and chemicals) that went into the making of the mattress.
However, toxic chemicals are common in many mainstream mattresses. Often, these toxic chemicals will
off-gas harmful VOCs
(volatile organic compounds), which can lead to a wide variety of symptoms such as headaches, difficulty breathing, and dizziness, to name a few. In the worst-case scenario, some VOCs are even suspected or known carcinogens, such as formaldehyde.
This is why it is extremely important to think carefully about the make-up of your mattress. To protect you and your family from exposure to toxic chemicals while you sleep, it is safer to choose a certified organic mattress that uses natural, non-toxic alternatives to meet the same sleep and comfort standards.
Let's look at 4 of the most common mattress materials that you should avoid and why you should avoid them.
1. Flame-Retardant Chemcials + Barriers
In many conventional mattresses, the materials that are used causes manufacturers to add industrial-strength flame-retardant chemicals to meet flammability standards. One of the most common flame-retardant chemicals that's used to treat fabrics is antimony (i.e. antimony trioxide/pentoxide, sodium antimonate, and various halogen combinations). What's shocking about the use of antimony in consumer products is that it usually contains arsenic, a known poison and carcinogen.
Flame-retardant chemicals have clear toxicity concerns and can have many adverse health effects, especially as the particles in the mattress break down over time and become airborne. According to the EPA, exposure to these substances has been demonstrated to cause adverse health effects such as irritation of the lung, eye, and mucous membranes, effects on the central nervous system, and cancer.
2. Synthetic Latex
Synthetic latex is another material that is regularly used by traditional mattress manufacturers because it is cheaper to produce than natural latex. Made from two petroleum-based compounds (styrene and butadiene), synthetic latex can pose serious health risks—again from off-gassed VOCs. Chronic exposure to styrene in particular has been confirmed by the EPA to have a range of health consequences, including effects on the central nervous system, hearing loss, fatigue, and depression.
3. Perfluorinated Chemicals (PFCs)
Perfluorinated chemicals, or PFCs, are typically included in mattresses as a chemical treatment for knit or woven fabrics to make them resistant to water and stains. Even if your mattress is made of organic cotton fabric, these toxic chemicals are often found on modern mattresses that have a fabric finish.
The EPA affirms that exposure to PFCs can lead to adverse health outcomes in humans. In particular, the chemical compounds PFOA (perfluorooctanoic acid) and PFOS (perfluorooctanesulfonic acid) have caused reproductive and
4. Vinyl
Vinyl is a commonly used as a shorthand name for polyvinyl chloride (PVC) plastic in a range of consumer products. However, vinyl is dangerous on two levels. First, some chemicals associated with PVC are recognized carcinogens. Second, the plasticizers that are traditionally used to soften the hard PVC plastic and make it flexible enough to use as mattress pads or protectors are phthalates. Phthalates (and their variants) are increasingly shown to be toxic to human health, especially for developing babies and children. If a mattress claims to be waterproof, there is a good chance that they are using vinyl/PVC to make it so.
Why is Naturepedic a safer, healthier alternative?
Since so many conventional mattresses contain these harmful, toxic chemicals in their materials and make-up, Naturepedic made it our mission to offer a safer, healthier organic alternative that is free from all of these concerns.
Not only are we certified to the strictest organic standards through the Global Organic Textile Standard (GOTS), but we take pride in being the leading organic mattress brand when it comes to transparency and safety. By eliminating toxic flame retardants, waterproofing our products with a patented, GOTS-approved process, and using safer materials, Naturepedic doesn't compromise with any of our products.
It is our promise to you that we will always take care to eliminate harmful chemicals from our products, offering safer alternatives to improve the safety and health of your family.
Let us know if you have any questions that we can answer to help you in your mattress buying. You can reach our customer service team at 1.800.917.3342 or email them at cs@naturepedic.com from 9:30am-5:30pm EST, Monday-Friday.
---