Let's do a fun little word association exercise. Close your eyes for just a moment and think about the word "factory." Go ahead, we'll wait…
OK! So, what images and sounds did the word "factory" spark for you? For many, this word evokes details like thick smokestacks, heavy-duty safety goggles, respirators or even full body PPE suits. You may also be picturing terribly loud machines and yellow safety labels warning of the chemical hazards that come with heavy synthetics, harsh adhesives and other materials commonly used in factory production.
Now, let's shift gears and do the same exercise with the word, "organic." What do picture? Fresh fruits and vegetables? Sprawling fields? Again, you're not alone if this is where your mind goes.
Of course, it's usually smart to push past our first instincts. In this case, the concepts of "factory" and "organic" are not at all mutually exclusive. A factory actually can be organic. And, "organic" can refer to a lot more than just food. We'll let the USDA's organic standards and the companies that provide all those yummy, certified organic foods lead the conversation around organic food production.
At Naturepedic, we're very proud to own and operate a certified organic manufacturing facility where we handcraft our safer, healthier mattresses and bedding accessories. As part of our mission to transform the way the mattress industry operates, we had our factory certified to the Global Organic Textile Standard (GOTS).
Why Does GOTS Certification Matter for a Factory?
You may be familiar with the GOTS certification already. A lot of health-conscious and environmentally aware people know to look for reputable certifications like GOTS to avoid greenwashing (aka products that aren't really as "natural" or "sustainable" as they appear). Not as many people are aware that an entire manufacturing facility should also be GOTS certified.
This is because the GOTS certification system covers all the stages that organic textiles go through, including:
Processing

Manufacturing

Packaging

Labeling

Trading

Distribution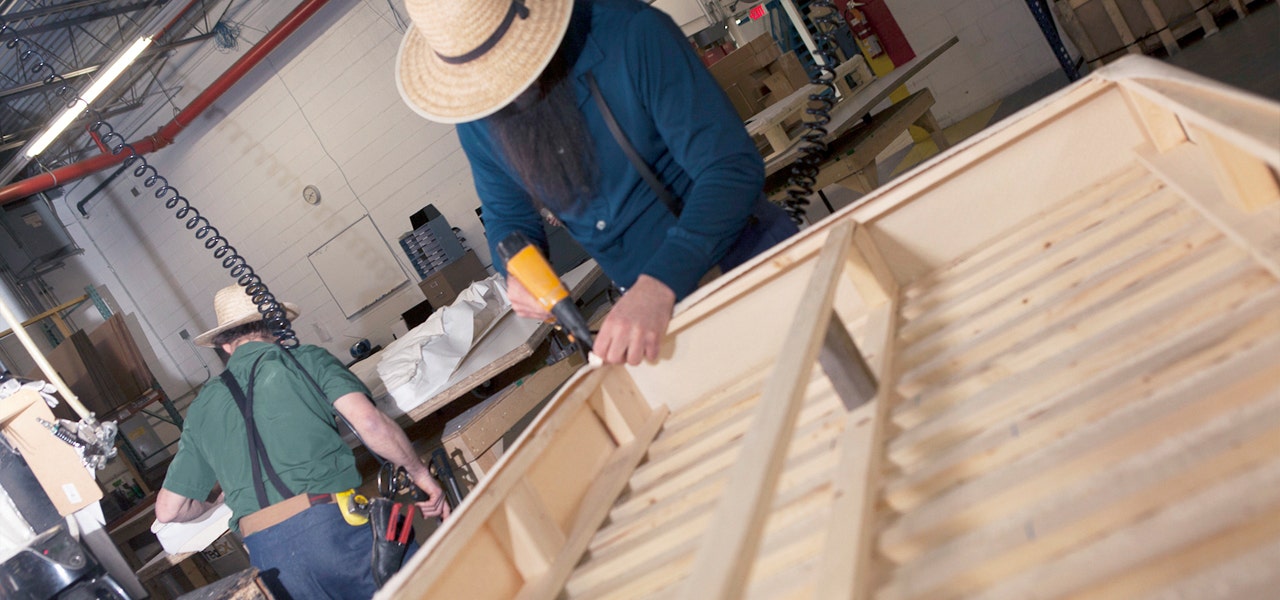 The GOTS factory certification helps remove the guesswork, giving you one more reason to trust that a company is making good on its promise of providing organic products. Without certifications from reputable third-party organizations like GOTS, there are just too many unknowns.
In the factory setting, the GOTS certification also means that workers are provided with safe, fair working conditions that meet a wide range of social standards, such as no discrimination, harassment, or occupational health and safety threats. You can view the full list here.
Healthier Materials, Healthier Factory
Of course, our GOTS certification also ensures that our factory – located in Chagrin Falls, Ohio – processes certified organic materials. This is why, instead of subjecting our employees to toxic chemicals, the Naturepedic factory deals with materials that have names you won't need a degree in chemistry to pronounce or a protective suit to handle. Our certified organic mattresses are handcrafted from naturally occurring materials like: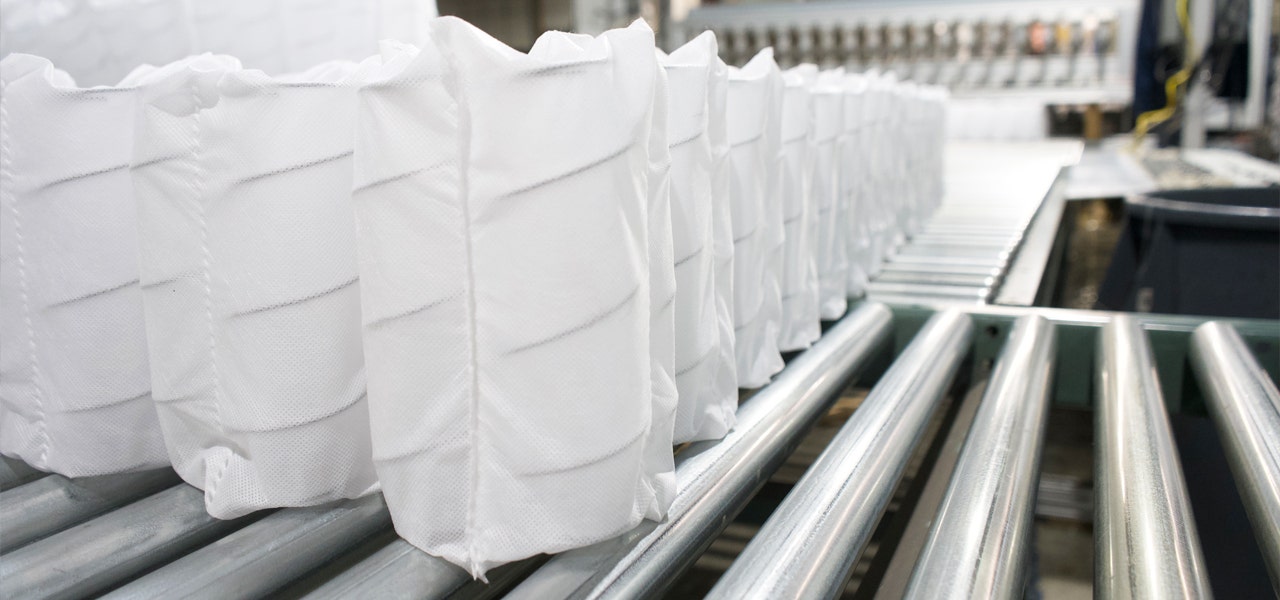 Not Your Average Factory IAQ, Either.
The certified organic materials we use also help contribute to the health and safety of our workers by promoting better IAQ (indoor air quality). In conventional mattress factories, employees are exposed to toxic off-gassing chemicals and substances commonly found in non-organic mattresses, such as:
Polyurethane foam

Vinyl and other phthalates

Formaldehyde

PFCs/PFAS

Pesticides

Flame retardants

Glues/adhesives
Poor IAQ can result in a range of health issues from headaches and allergy- or flu-like symptoms to more serious concerns such as respiratory disease and cancer. It's why you often see factory workers wearing respirators and other heavy PPE gear that isn't required in a factory like ours.
Less Noise Pollution, Too!
If you go back to that word association game for a second and imagine the phrase "assembly line," we're pretty sure that the Naturepedic concept of an "assembly line" is not what you're picturing. Instead of massive, noisy machines, we have craftspeople making our mattresses by hand, each carefully completing their portion and passing on to the next.
Some steps involve a single person sewing by hand, others entail running quiet yet intricate machines, and some steps involve two people working together as a team. The process is truly hands on from start to finish. And we mean it when we say that we care about the well-being of our employees.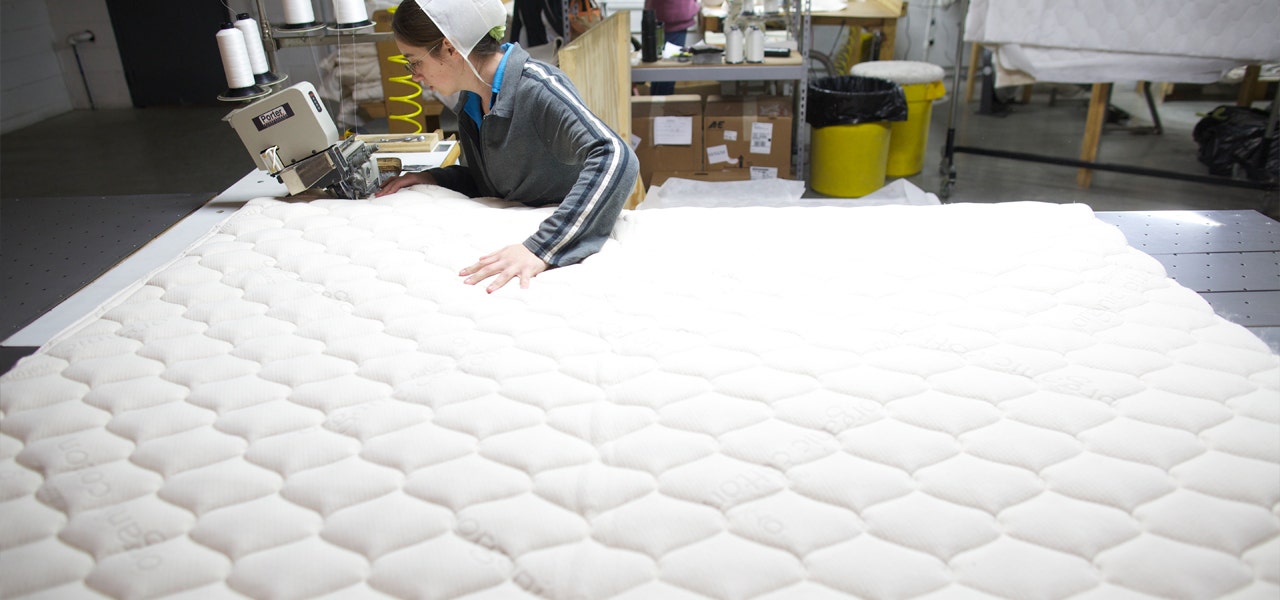 Naturepedic: More Than Organic Mattresses.
At Naturepedic, we specialize in providing safer, healthier mattresses and bedding for babies, kids and adults. We are truly committed to the organic, healthy sleep movement that we helped to create back in 2003 when we introduced our first mattress. We also help support other organizations that share our passion for eliminating harmful chemicals from all consumer products, such as our recent effort to help ban dangerous "forever chemicals" perflourinated compounds (PFAS) from many of the household items your family needs. Learn more about our advocacy and sustainability efforts.
---