Shopping for a mattress online is still a fairly a new trend and buying a mattress sight unseen may sound scary to you. How can you tell if a mattress is comfortable without testing it out in person?
Never fear! Among other benefits that you don't often get when you shop in store like larger selections, competitive pricing and convenience, some online mattress retailers also offer a mattress trial period. This means that when you make an online mattress purchase, especially a personalized one such as a customizable organic mattress, you can add your dream mattress to your cart with confidence– even if you've never touched it.
However, a mattress trial is only an advantage if you understand a few important basics like why you need to break in a mattress and what to look for during your mattress trial period. Spoiler alert: We'll give you all the details of Naturepedic's 100-day risk-free mattress trial at the end of the blog! But first, let's talk about those basics.
What Is a Mattress Trial Period?
A mattress trial, or sleep trial, is a set amount of time after purchasing a mattress during which you can try out your new mattress at home. If you decide the mattress isn't working for you for any reason, you can return it for a refund.
Mattress trials give you the opportunity to test out a mattress by actually sleeping on it – for a good chunk of time – before committing to your purchase. Are mattress trials really free? This depends on the manufacturer, but many now offer full refunds. Just be sure you read and understand the company's policy.
While everyone's mattress trial policies vary, read on for a general overview of the "why" and "how" of sleep trials.
Why Do You Need to Break in Your Mattress?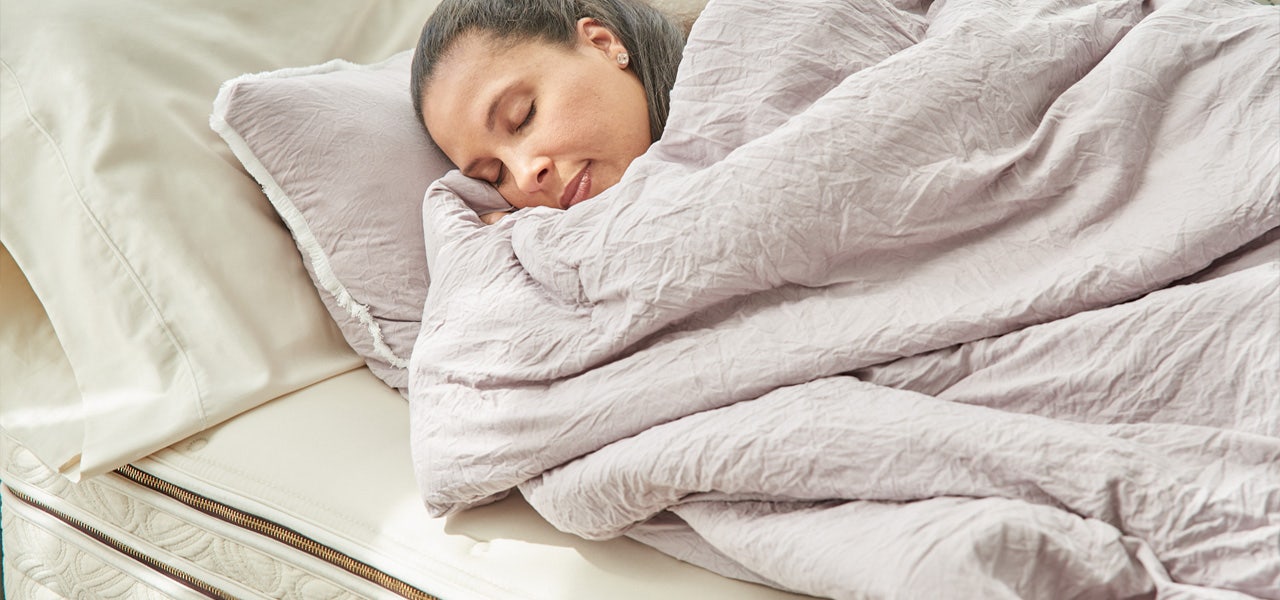 When you invest hours in researching the right mattress and a sizable amount of your hard-earned cash just to spend your first night on your new mattress tossing and turning … it can be disheartening. Luckily, there's a practical explanation.
You're used to your old mattress! Perhaps you've grown too comfortable with your worn-out springs, so the new mattress feels firm and stiff. Or, maybe, your body is so used to compensating for saggy indents that it doesn't remember how to rest on a surface that contours to your body. Think of your mattress like a new pair of gym shoes: you've got to break it in.
Whether your mattress is too stiff for you or you're too stiff for your new mattress, you should expect an adjustment period. Buying a mattress from brands like Naturepedic that allow you to customize your comfort levels can go a long way in making those first few weeks super comfy. But, your body may still need to get to know your new mattress.
How Long Does It Take to Break in a Mattress?
How long it takes to break in your mattress depends on the type of mattress you purchase. It can take two weeks or two months to become accustomed to the feel of your new mattress. Of course, a fully customizable mattress (like a Naturepedic EOS Organic Mattress) might take even less … or no time at all!
Regardless, you should give yourself no less than 30 days to try out your mattress – the typical length for a conventional mattress trial's break-in period. Don't forget that everyone's body is different. How long it takes you to break in your mattress largely depends on, well, you!
Are Sleep Trials Only Necessary for Online Purchases?
Sleep trials shouldn't be limited to online purchases. Sure, you can test out different mattresses at the store to choose the one you think is the right fit for you. But a couple brief moments lying down don't compare to eight hours in bed – because the break-in period still applies!
Unfortunately, not all mattress retailers offer in-store mattress trials. (Hint: Naturepedic does!) Make sure that your mattress comes with a risk-free trial before purchasing in person … or you might be better off purchasing online.
4 Things to Look for During Your Mattress Trial
Knowing how to analyze your mattress can help you make the most of your mattress trial period. Here are four things to look for when breaking in your mattress.
1. Overall Comfort
This one's a no-brainer. If your mattress isn't comfortable, you're not going to want to sleep on it. If your mattress doesn't feel quite right, consider what you're responding to. Mattress firmness is a big part of the equation. Does your mattress feel too squishy? Too hard? Similarly, what's providing your mattress's support? In conventional mattresses, support could be:
Innerspring system

Latex

Foam

Hybrid
At Naturepedic, we use the best materials that Mother Nature provides to make our certified organic mattresses not only healthier, but comfier too: GOTS certified organic cotton and wool, GOLS or FSC® certified latex, individually wrapped coils (sans glues and adhesives) and NO polyurethane foams.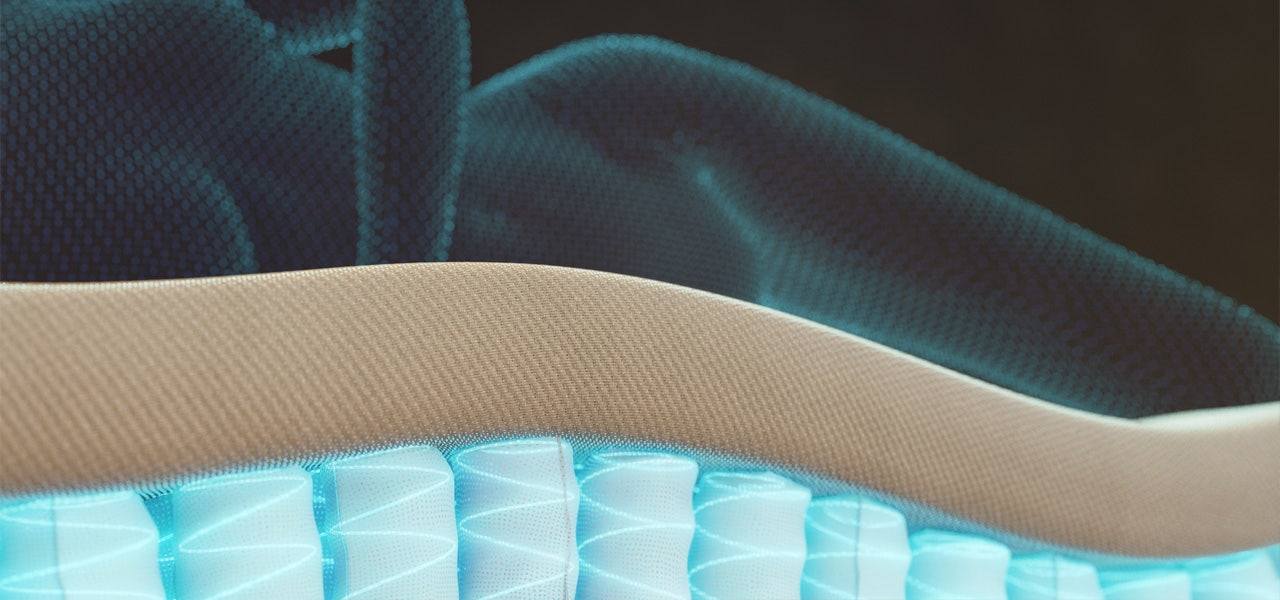 2. Functional Firmness
While we're on the subject of firmness – some people may want to consider mattress firmness from a mobility standpoint. If you like to sit on the edge of your bed, you might want a mattress with strong edge support. The same goes for those who tend to sleep near the edge.
Mattress firmness can also affect how easy it is to roll over, switch sleeping positions or get in and out of the bed. Maybe your mobility is limited, or maybe you're a restless sleeper. No worries either way – just look for a firmer mattress.
Naturepedic's customizable comfort layers make it easy to tailor your mattress's firmness to your needs. Plus, you can swap your layers for free anytime during your 100-night risk-free trial.
3. Temperature
Are you a hot sleeper? Night sweats can be disruptive to your quality of sleep, making temperature something to keep in mind during your mattress trial period. Many mattresses nowadays are advertised as "cooling," utilizing chemical "cooling" gels that allegedly help regulate your body temperature as you sleep.
We'll let you in on a little Naturepedic secret: petroleum-based materials like memory foam trap heat, while naturally occurring materials like cotton and wool are breathable. Hot sleepers can avoid "cooling" gels, beads and other nonsense by choosing a certified organic mattress that naturally wicks moisture and helps regulate body temperature.
4. Chemical Odor
You know that new car smell that some people just can't get enough of? How about freshly painted walls? Well, like it or not, if your mattress is putting off a similar scent, it's usually a red flag called off-gassing.
Off-gassing refers to when the glues, foams, flame retardants and other materials found in conventional mattresses expel Volatile Organic Compounds (VOCs). Off-gassing also negatively impact your indoor air quality and can contribute to a range of health concerns.
Memory foam and synthetic latex mattresses are the main culprits here – the best way to avoid VOCs is to choose a certified organic, non-toxic mattress.
Naturepedic's Risk-Free Sleep Trial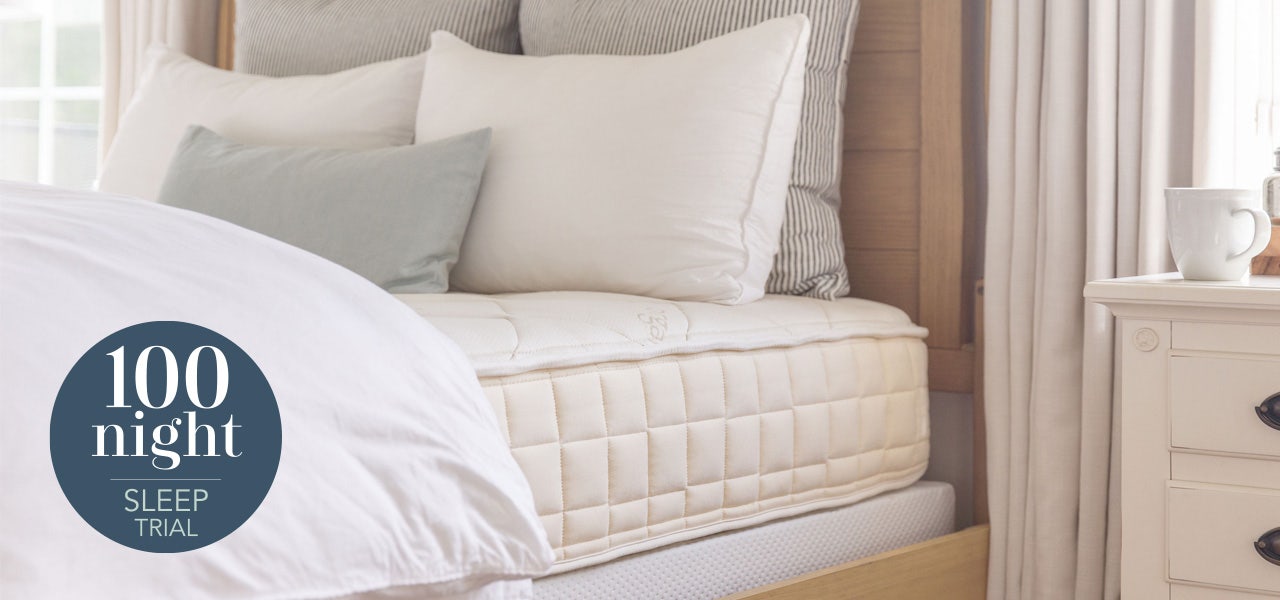 At Naturepedic, you can try our certified organic mattresses risk-free for well beyond the 30-day minimum required to break in your mattress. We offer 100-night sleep trials for all our mattresses, including our kid and baby collections.
And don't forget, if you purchase one of our customizable EOS mattress – you can swap your comfort layers out any time. So, instead of returning your mattress and ordering a new one, you can adjust your comfort as you get familiar with your mattress … and create the bed that's perfect for you.
For more details, you can view our sleep trial (and free shipping/returns and warranty!) policies here:
Don't just take our word for it – writer and working mom Courtney Irwin's Naturepedic Chorus Organic Mattress took three weeks to win her over. You can read all about Courtney's mattress trial in her Better Homes & Gardens article.
---