a highly versatile organic mattress for kids
Perfect for young children making the big transition. Works great in bunk beds, platform beds and trundles

quilt (organic cotton fabric + pla comfort layer)

1" organic cotton comfort layer

6" premium innerspring unit

1" organic cotton comfort layer

encasement (organic cotton fabric + organic cotton fill)

waterproof surface on bottom (organic cotton fabric + pla comfort layer)
what's inside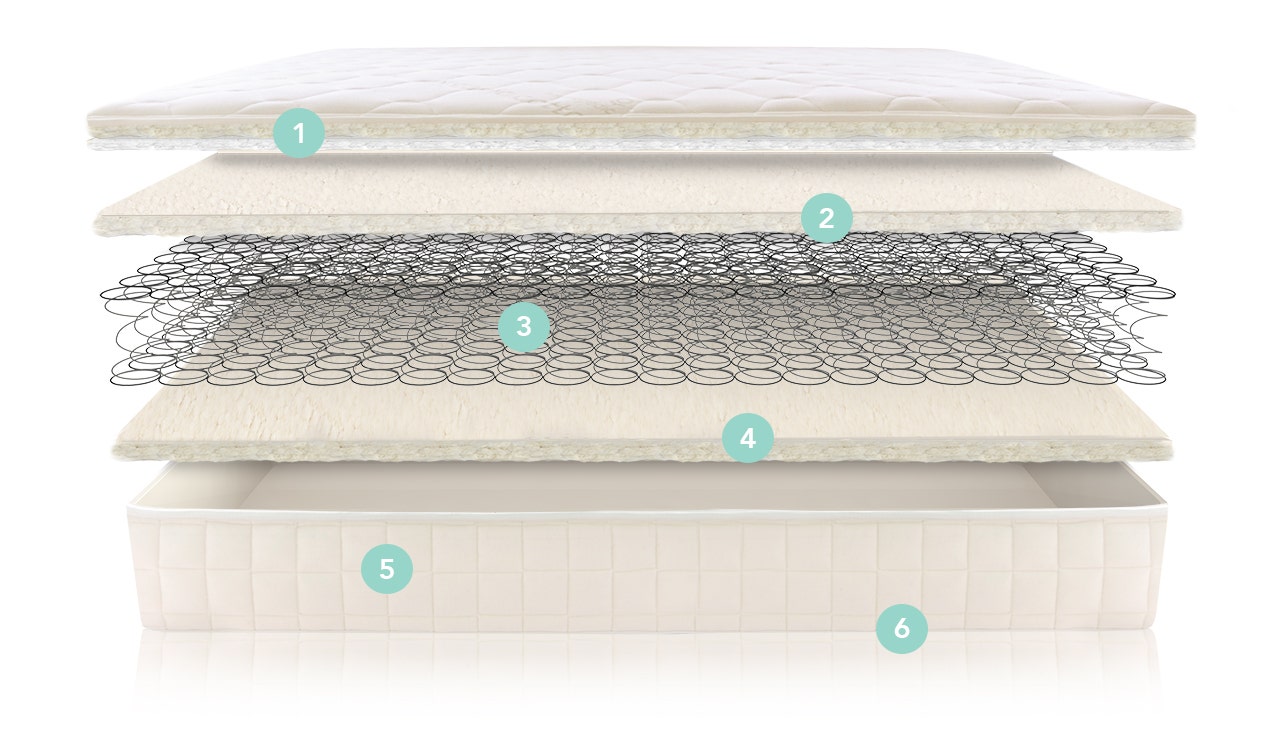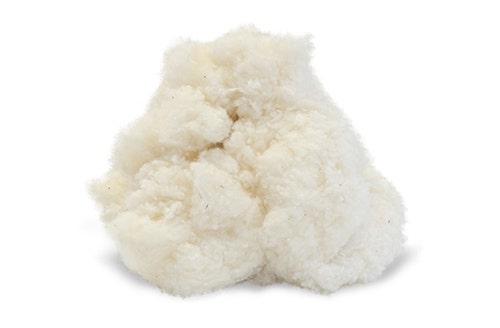 organic cotton fabric + fill
Organic cotton is the purest form of cotton and a healthier alternative to synthetic fabrics and foams. Naturepedic uses only U.S. grown and certified organic cotton as filling for its mattresses and buys directly from USDA certified sources. You'll also love our luxurious stretch knit fabrics. They're soft to the touch and easily stretch to conform to your body.
You'll love our luxurious stretch knit and woven fabrics plus U.S. grown batting.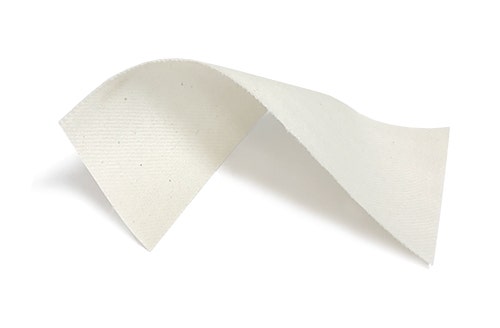 waterproofing
Using a patented Naturepedic design, the waterproof side of the mattress features an organic cotton fabric with an LDPE waterproof coating so pure it actually meets food contact standards (made from non-GMO sugarcane without any glues or adhesives).
This resilient fiber wicks moisture and helps regulate temperature.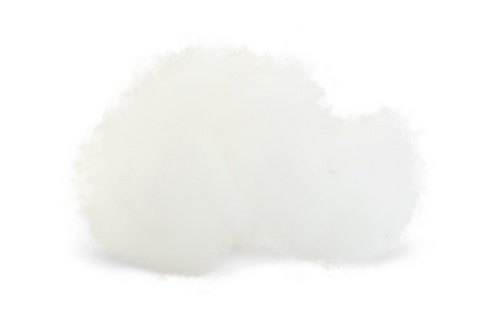 pla layer
PLA is a high-performance synthetic fiber made from non-GMO sugarcane that adds resiliency and unique performance characteristics. PLA is entirely plant-based and is used in a variety of industries, including food packaging and medical supplies and is well-known for its sustainability and non-toxic properties.
A comfortable high- performance fiber made from non-GMO sugarcane.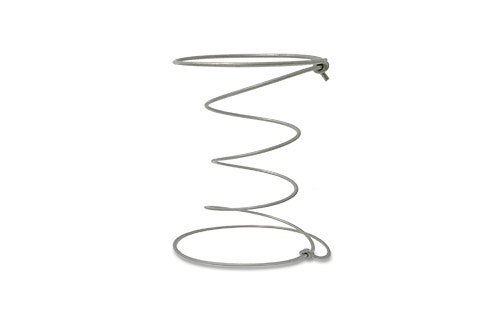 premium innerspring
Features a comfortable premium innerspring with polyester lining that provides contouring support so your child will fall asleep and stay asleep. The open nature of the coils provide excellent breathability and heat dissipation.
Provides contouring comfort with full perimeter edge support. Made in-house without ANY glues or adhesives.
super comfy
Whether your child is on the quilted side or the waterproof side, rest assured they'll be comfortable.
With generous layers of organic cotton over a premium innerspring, the 2-in-1 feels solid, supportive and comfortable. Built on the firmer side to help support kids' developing bones.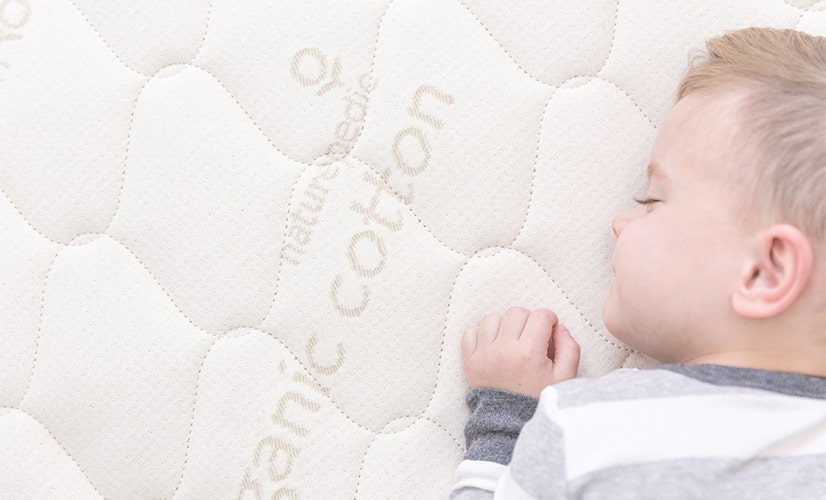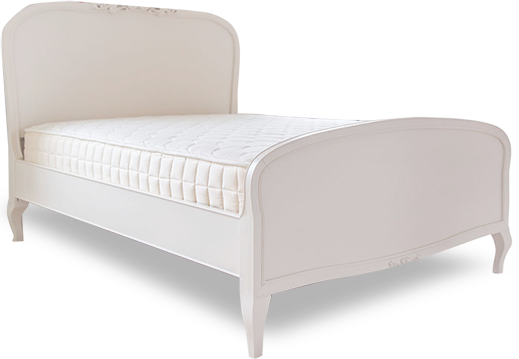 superior design
The 2-in-1 is beautifully tailored with a luxurious quilted finish on one side and a smooth waterproof surface on the other. This design allows you to choose the side that works best for your child based on their development.
The waterproof side especially comes in handy for bed-wetters if the mattress pad comes off, is in the wash, or was forgotten entirely. Once bedwetting is under control, just flip over for a more mature quilted feel.
no harmful chemicals
Polyurethane foam, flame barriers, adhesives and other chemicals have been replaced by healthier natural materials. Rest easy knowing your child is not sleeping on these materials night after night.
CERTIFIED ORGANIC + NON-TOXIC
Not only are the materials and factory certified, but the entire finished product is certified as well.
GOTS CERTIFIED
All Naturepedic mattresses meet the organic and non-toxic standards of the Global Organic Textile Standard (GOTS), a consumer goods certification recognized by the U.S. Department of Agriculture (USDA).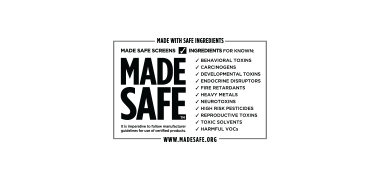 MADE SAFE® CERTIFIED
Naturepedic mattresses have been scrutinized by experts to help eliminate harmful ingredients, vapor releases, gases, or by-products that could impact human health.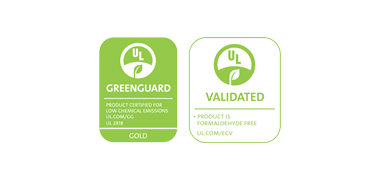 UL/GREENGUARD® CERTIFIED
Naturepedic mattresses have been tested and certified by UL/GREENGUARD laboratories for low chemical emissions. They are additionally certified to meet their formaldehyde-free standard.
HELLO ORGANIC, GOODBYE CHEMICALS™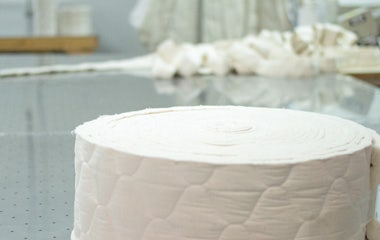 Every Naturepedic mattress passes all government flammability requirements without ANY flame retardant chemicals or barriers. That's right - none at all! This is due to our smart natural mattress design and the elimination of highly flammable synthetics such as polyurethane foam.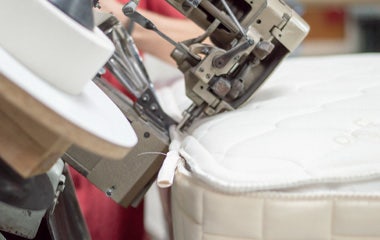 It's really hard to find a mattress without glue. Even "organic mattresses" often contain several pounds of industrial adhesives, especially in their coil systems. At Naturepedic, we've engineered custom processes that do not use glue or adhesives. We're 100% committed to chemical safety - and honesty!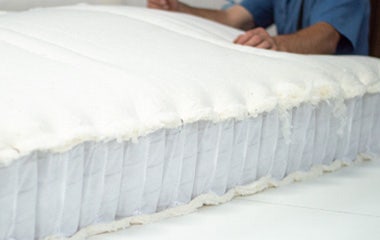 Polyurethane foam, including memory foam and all its variants, can be found in nearly all conventional mattresses. It's made primarily from petroleum and other chemicals and is highly flammable. At Naturepedic, we do not use polyurethane foam in any of our products.
handcrafted quality you can trust
Featuring skilled Amish craftsmen who love and care about their work
handcrafted quality you can trust
Featuring skilled Amish craftsmen who love and care about their work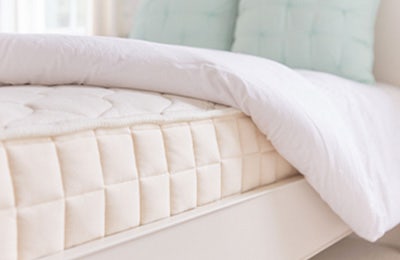 proudly made in the U.S.A.
Naturepedic is proud to offer the very best organic mattresses - made right here in the U.S.A. We use a combination of domestic and imported fabric and components when crafting our mattresses.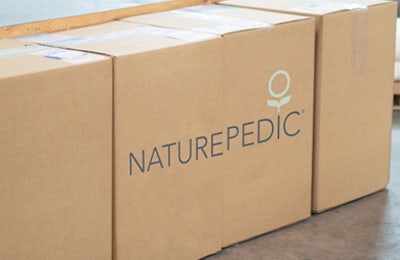 100 night trial
Try our products risk-free for 100 nights. If you're not completely satisfied, we will happily take it back for a full refund (applies only to orders placed directly with Naturepedic). We are humbled by your trust and will do everything in our power to ensure you love your new mattress!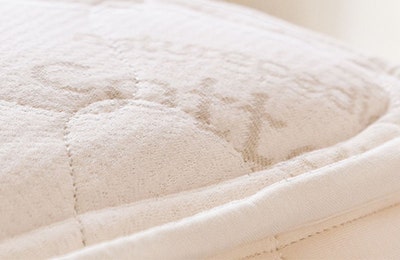 25 year limited warranty
We stand behind our products 100% and have been making organic mattresses since 2003.
With first class customer service and a 25-Year Limited Warranty, you can rest easy knowing you're in good hands.
easy setup
convenient delivery
Make your child's transition to a big kid bed easy. The mattress ships compressed and roll-packed for quick and easy delivery and setup.
Please note that setup for the 2-in-1 is the same as for the Verse.
choose a topic to learn more