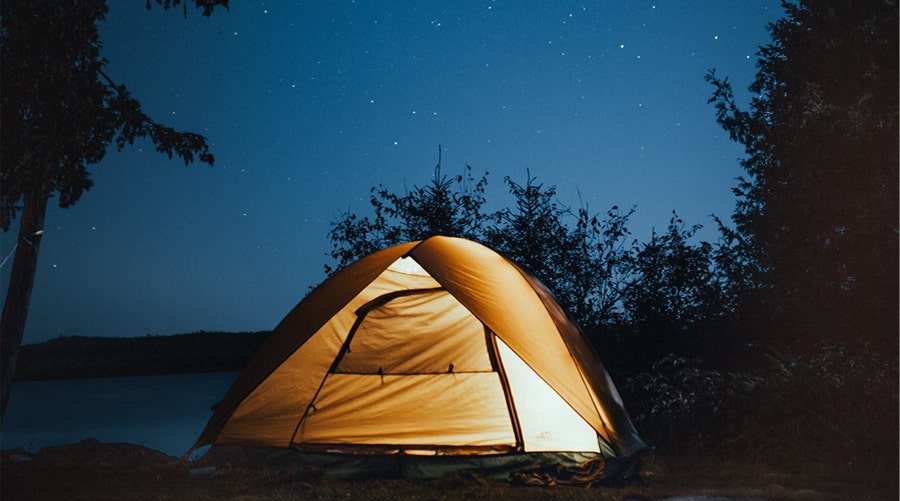 It's Global Sleep Under the Stars Day — and that makes it the perfect time to organize a backyard camping adventure that the whole family will love.
To truly celebrate the beauty and wonder of nature, spending a night beneath the stars can transform your way of thinking about the world. Depending on where you live it might be tough to see tons of stars, but seeing just a few can trigger social and emotional responses, such as feeling awestruck or inspired.
Whether you're a camping beginner or you've spent many weekends roughing it while hiking, sleeping outside is a great way to appreciate Mother Nature without all the planning, gear-buying, and packing. (Plus, being a few footsteps away from a clean, indoor bathroom is a major perk!)
As you plan for your mini getaway and prepare for a night sleeping outside, here are several helpful hints to make the experience unforgettable.
Create a Cozy Campsite
The most important part of a successful night sleeping beneath the stars is the comfort levels of your campsite. Setting up a cozy nest can take a bit of elbow grease and teamwork, but you'll be so thankful you took the time to create a comfortable sleep environment in the morning-after. Find a smooth, flat surface to set up your tent. Make it extra cozy by lining the tent with yoga mats, cushy comforters, or multiple layers of sleeping bags.
If you are looking to add even more comfort, make sure you have plenty of organic pillows on hand. (Two pillows are always better than one!) You can also consider using an inflatable air mattress for extra cushioning. Hanging some string lights can create the perfect outdoor ambiance, so if you have some Christmas lights lying around the garage, add these to your campsite too.
Gather Your Stargazing Materials
If you're hoping to celebrate Global Sleep Under the Stars day properly and get the most out of the experience, you'll want to do a little preliminary research about stargazing. There are plenty of stars out there for your viewing pleasure of course, but identifying constellations isn't easy. The author who wrote Curious George, H.A. Rey, has a great guide for locating stars called Find the Constellations, which is particularly great for kids.
There are also many guides online that are available through NASA.gov, NASA's Space Place, and SeaSky.org. The night sky can be full of stories, curiosities, and adventures — if you know where to look. Get as far away from any light pollution as you can, and you'll be ready for some seriously great sky investigation.
Bring Along These Additional Outdoor-Sleeping Essentials
After your campsite is all set up for stargazing later on in the night, you can kick off the adventure by cooking a meal outside, like roasting hot dogs over a fire or making s'mores. (Here are a few other kid-friendly camp meals for inspiration.) Once everyone is full and ready for sleep, there are several other things you should always have on hand for a night of sleeping well outdoors:
Weather-appropriate clothing, so you won't be too hot or too cold at night.

Extra layers, such as blankets or sweatshirts, just in case it gets very chilly overnight.

A flashlight or headlamp, so you can get to the bathroom safely in the middle of the night.

A sleep mask, so the sun doesn't wake you up at the crack of dawn.

Ear plugs, since sounds from crickets, katydids, bullfrogs, and many other mammals will come alive at night.

Insect repellant, which should be sprayed on your clothes and any exposed skin before bed.
—
By taking these steps before spending the night outside, you will be more than prepared for an unforgettable adventure in your very own backyard in celebration of Global Sleep Under the Stars Day.
---