What's your New Year's resolution? At Naturepedic, we're resolving to help even more people achieve safer, healthier sleep in the new year … and if better sleep is your resolution, we salute you!
If you're working on improving sleep, the first thing you'll want to consider is your sleep environment: your mattress and sleep accessories. What's a sleep accessory, you ask? Sleep accessories are designed to help you achieve better sleep, and can include mattress protectors, mattress toppers, sheet sets, pillows and more.
How do you know what sleep accessories are right for you? Some are obvious – yes, of course you need bed sheets, right? However, a lot of people have questions when it comes to mattress protectors and toppers. Do adults need waterproof protectors? What exactly is a mattress topper? And, do you need both? Read on to learn!
Mattress Protector Pad vs. Topper: The Basics
Mattresses, mattress protector pads, mattress toppers … oh my! When it comes to comparing sleep products, it's easy to get confused on what each product actually does.
Simply put, a mattress protector pad protects your bed against contaminants like sweat, allergens, spills and bugs. A mattress topper alters the feel of your mattress, making it softer or firmer to suit your sleep preferences.
Read on for a full breakdown on mattress pads vs. mattress toppers … and which product is best for you … or, if both are.
Mattress Protector Pads
Want to learn if a mattress protector pad is right for you? Spoiler alert: mattress protectors are right for everyone … and they are vital to keeping your mattress in good health. Here's why.
What Mattress Protector Pads Do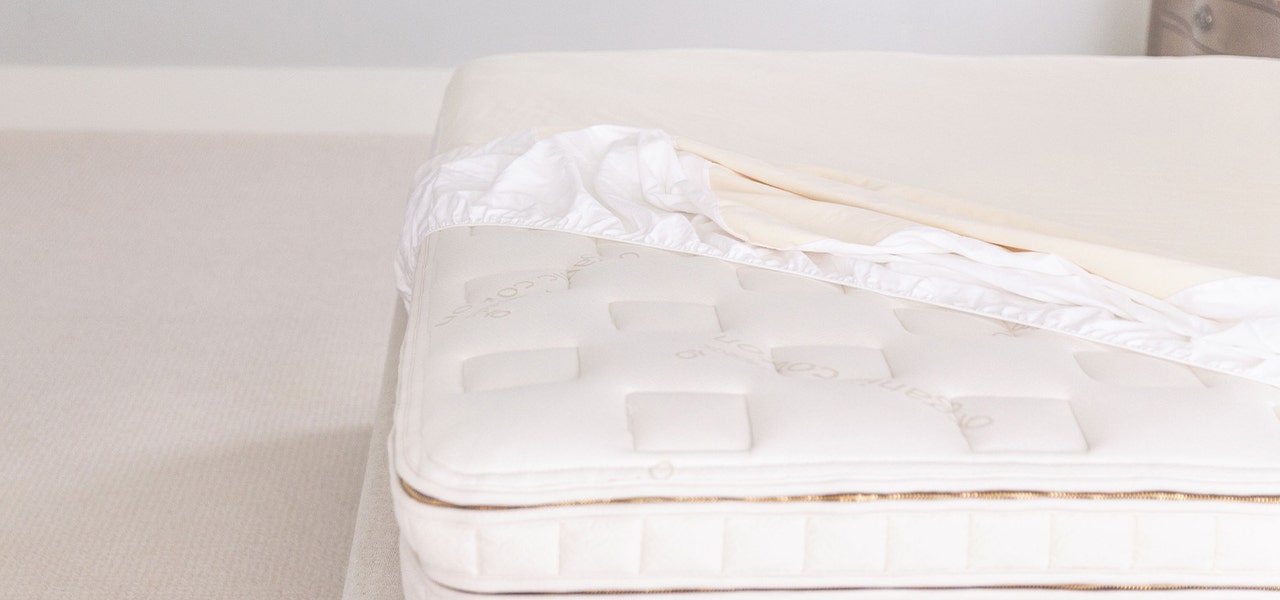 Mattress protector pads do just that: protect your mattress. Usually made from waterproof or water-resistant materials, they keep your mattress surface clean, fresh and hypoallergenic. They can be sweat-wicking, too. Mattress protectors are designed as a barrier to protect your mattress from:
Sweat, spills and other mildew-causing moisture

Allergenic dust mites, pet dander, etc.

Dirt and other potential contaminants
What a mattress protector doesn't do is add comfort. This thin, waterproof layer is designed for one thing and one thing only … to keep your mattress in good condition.
Who They're Best for
Don't think you need a mattress protector? Even if you wash your sheets regularly, keep pets out of your bed and don't eat or drink in bed, you can't avoid your own biology: your sweat, oils, skin cells and hair cells are absorbed by your mattress (so much so that your mattress might weigh up to 10 lbs. heavier after a decade of use … yikes!).
Mattress protectors are important for every member of your family: babies, kids and adults. They're especially important during infancy and toddlerhood, when accidents are inevitable and little ones are vulnerable … you don't want mold, bacteria or other nastiness growing in your baby's mattress.
Mattress protectors are also essential for those with allergies to pet dander, dust mites and more. While these allergens in a mattress may be benign to many of us, if you're allergic they can make it difficult to breathe and impossible to sleep. A mattress protector keeps allergens out of your mattress and out of your sleep environment.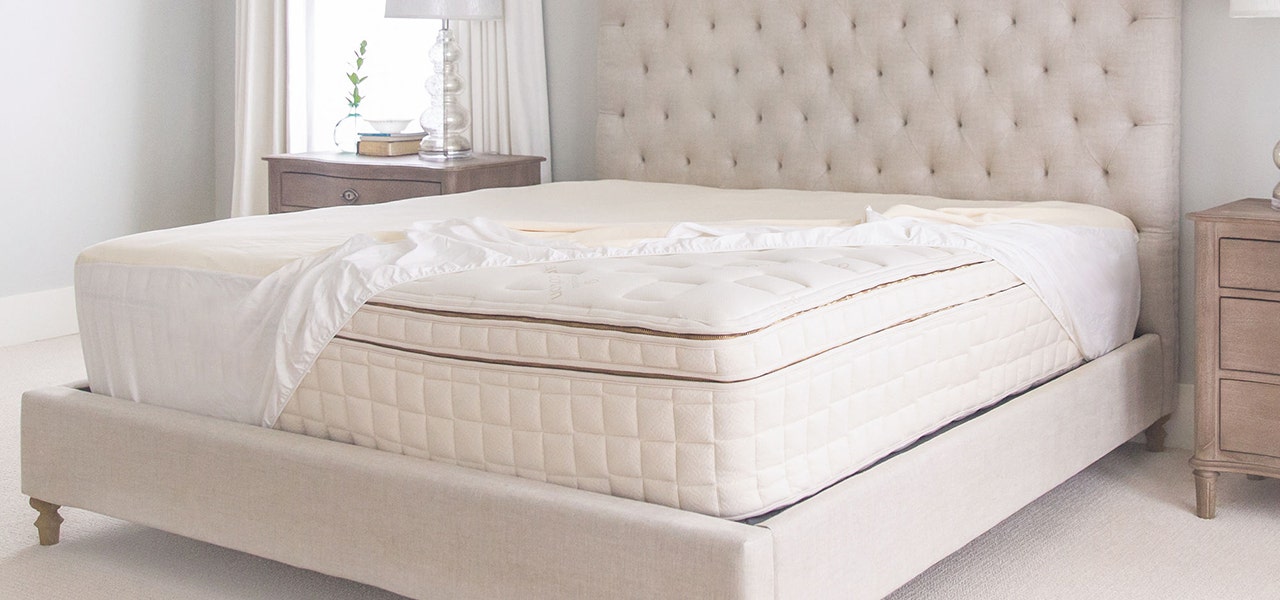 Best Protector Pad Materials
What's the best mattress protector pad material? If you're familiar with the Naturepedic blog, you can probably predict our answer to this question: certified organic cotton, of course! But what about waterproofing?
At Naturepedic, our organic mattress protector pad features our proprietary DrySleep™ Technology, which blocks liquids from passing through while allowing water vapor to escape. This helps reduce sweating and clamminess, providing a more comfortable sleep while offering complete waterproof protection. We do this with a non-toxic polyurethane barrier that meets the GOTS standards to safely waterproof your mattress protector.
In addition to providing organic certification, GOTS monitors every part of a company's supply chain to ensure the ecological effects and labor conditions meet their strict standards. No matter what mattress protector pad you purchase, you'll want to make sure it is a GOTS certified product to ensure that it's made of safer, healthier materials.
Mattress Toppers
What should you do if your mattress doesn't fit your comfort needs, but you aren't ready to invest in a new mattress just yet? Invest in a mattress topper, instead! Here's why.
What Mattress Toppers Do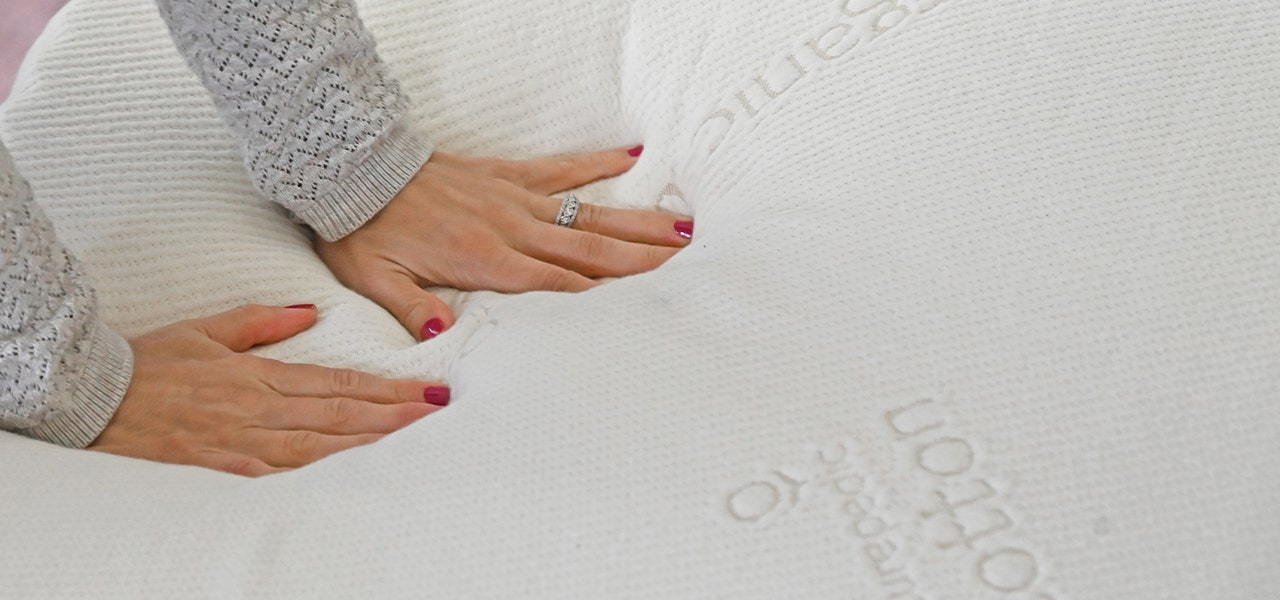 While a mattress protector pad is all about keeping your mattress safe, a mattress topper is all about keeping YOU comfortable … because you're not going to sleep if you're not comfy! Usually made up of a thick slab of latex or similar materials, a mattress topper is added on top of your mattress to create either a firmer or cushier feel.
At Naturepedic, we only use GOLS or FSC® certified natural latex for comfort you can trust. We also offer an Organic Wooly Topper for a fluffy pillowtop feel that has natural moisture-wicking properties.
While we're on the subject of what mattress toppers do, it's also worth noting what mattress toppers DON'T do: replace an old mattress. While using a topper consistently may extend the life of your mattress by a few years, adding a topper to a bed that is sagging and no longer offers support won't help you. (Ready to replace your old mattress? Consider these five things before buying your new organic mattress first!)
Who They're Best for
Kids, teens, adults … mattress toppers can add a touch of comfort for almost the whole family! However, infants and toddlers need a firm mattress for their safety and for their developing bones and muscles, so mattress toppers are not recommended for your littlest family members.
Whether you work from home or go into the office, you might find that your shoulders need a little extra pressure point relief after a long day at work … try a mattress topper! Or, maybe, you've got a teen going off to college, where an ancient, hard-as-rocks dorm mattress awaits … invest in a mattress topper. Perhaps you've got a youngster with growing pains, whose mattress could use some more support … add a mattress topper!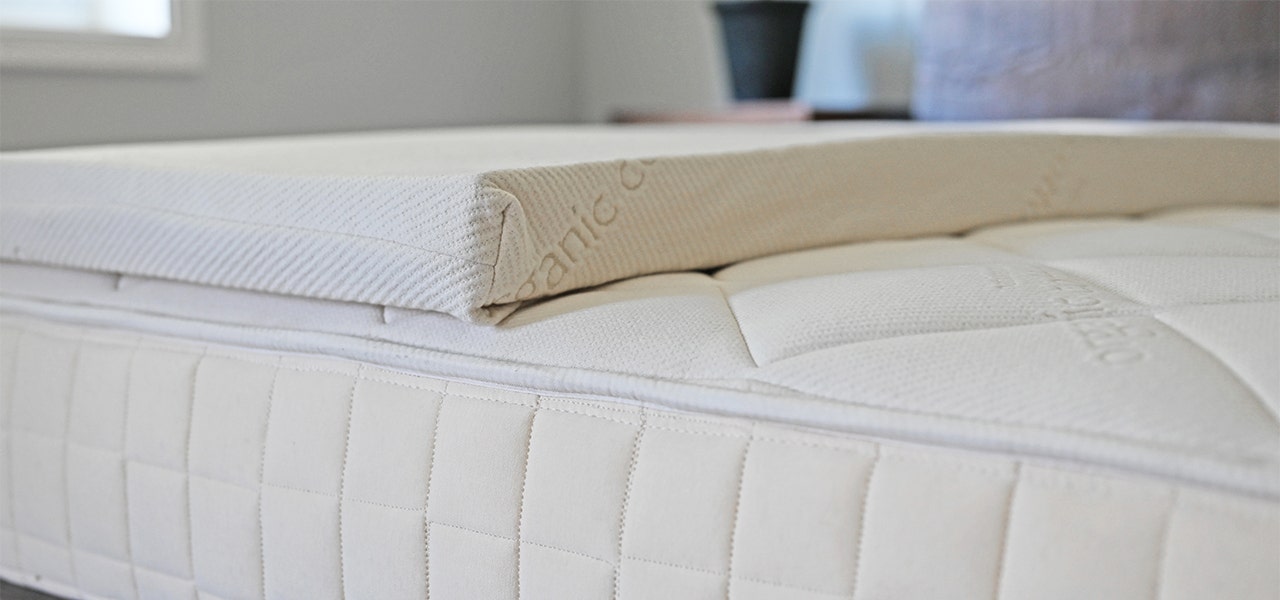 Cooling Mattress Toppers – Yay or Nay?
When shopping for a mattress topper, you'll probably come across a few so-called "cooling mattress" toppers in your search. Sounds great, right? (If you're a hot sleeper, we already know you said yes.)
Unfortunately, "cooling" technology on a mattress topper is a pretty big red flag. Why's that? Because your body is designed to naturally sleep cool. If you're sleeping hot, it could be for a number of reasons from medication to diet to cuddling your partner … but it could also be a result of what you're sleeping on.
Petroleum-based mattress materials (memory foam, soy foam, etc.) trap heat, leaving sleepers hot and sweaty. On the other hand, natural mattress materials like organic cotton, wool and latex are naturally breathable, which helps your body to regulate heat. So, while adding cooling technology may help make your conventional mattress or mattress pad less sweaty (and keep in mind, it may not), that's just a solution to a problem that the mattress is creating in the first place.
When shopping for a mattress pad, pay attention to the materials and choose organic cotton, latex or wool over synthetic materials … and avoid the need for cooling technology at all!
Organic Matters – No Matter What You Top It With!
While sleep accessories like mattress protectors and pads can help you achieve safer, healthier sleep, it's important to start with a good mattress: a safer, healthier, certified organic mattress. Whether it's comfort you seek or a healthier night's sleep, choosing organic is your first step ­– and nobody does it better than Naturepedic. Learn just what we mean by No-Compromise™ organic mattresses and take your first step to better sleep today!
---
---