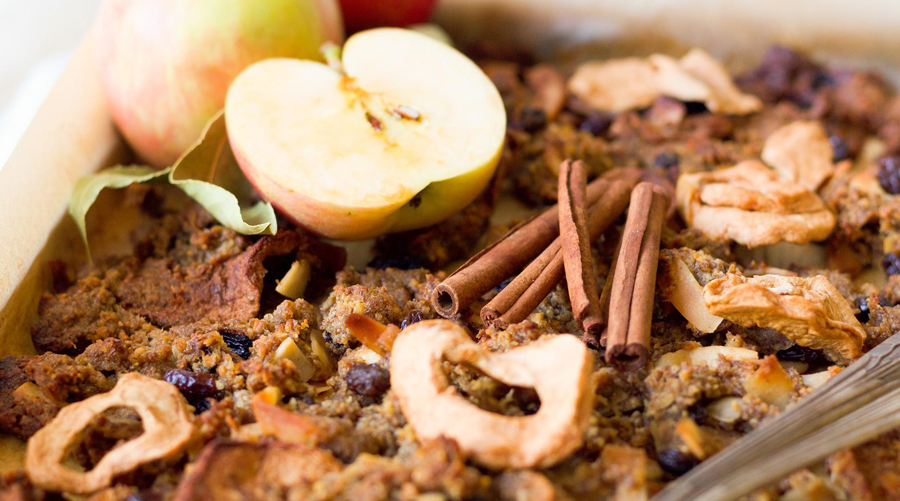 Apple Cinnamon Granola is full of delicious, seasonal flavors and packed with lots of textures, just the way granola should be. This chunky granola is perfect for snacking but also perfect sprinkled on yogurt, smoothie bowls, homemade ice cream or served as cereal with your favorite milk or non-dairy milk.
This seasonal granola is brimming with lots of healthy, real food goodies!
Apples of course, because this is an apple cinnamon granola! You'll find two kinds of apples in it – chopped up fresh apples as well as softer, dried apples. The chopped apples help act as a binder for the granola and the dried apples add a mouthwatering texture plus they taste so good!
You'll notice this is a nut free granola. Most granolas are jam-packed with nuts. But if you're like me and can't have nuts, then it's kind of hard to find a packaged granola that you can eat.
This granola's base is made with sprouted sunflower seeds, chia seeds and shredded coconut or coconut chips if you want to get fancy.
If you like nuts, then by all means add some in or omit the sunflower seeds if you really want to. This granola is very forgiving, so you can really add in or swap out what you want.
If you like hemp seeds, sprouted buckwheat groats, or pumpkin seeds, these can be added in or substituted for the seed mixture.
If you can have grains and like gluten free rolled oats, add them in! I used to LOVE rolled oats granola back in my vegetarian days when I ate granola almost daily. Rolled oats can be swapped with some of the sunflower seeds or pumpkin seeds or all of them. You decide!
This granola also has sweet cinnamon and a little bit of vanilla and sea salt. It's naturally sweetened with maple syrup and uses healthy avocado oil for the fat. You'll also find a little bit of my favorite grain free flour in the mixture.
Cassava flour is naturally Paleo-friendly, grain free and gluten free. It's a great choice for those who can't have gluten, nut flours or coconut flour. It's also a resistant starch when eaten cool, which means it has prebiotics that feed probiotics (food for probiotics) and it's known to help support digestion.
Welcome the flavors of fall as we head into the holiday season and enjoy a cozy bowl of granola or make yourself an extra special treat and sprinkle it on some homemade vanilla ice cream
Ingredients:
- 2 cups sprouted sunflower seeds
- ½ cup sprouted pumpkin seeds or hemp seeds
- 1 ¾ cup shredded coconut or coconut chips – divided
- ½ cup chia seeds
- 2 small organic apples, cored and quartered
- ½ cup cassava flour
- 1 ½ tsp ground cinnamon
- ½ tsp sea salt
- ¼ cup pure maple syrup
- ¼ cup avocado oil
- 1 tbsp vanilla extract
- 1 cup dried organic apples
- ½ cup organic raisins
Optional Add-Ins or Substitutions:
- Sprouted pumpkin seeds
- Hemp seeds
- Sprouted buckwheat groats
- Gluten free rolled oats - if grains are not a problem
- Dried fruit – figs, cranberries, pears, apricots, dates, cherries, etc.
– look for dried fruit with no added oils or sugar
- Apple pie spice or pumpkin pie spice
- Organic orange zest
- Allergy free or sugar free chocolate chips or carob chips – do not add until granola has fully cooled
Instructions:
1. Preheat oven to 325 degrees F and line a baking sheet with unbleached parchment paper. Set aside.
2. In a food processor or high-powered blender, add sunflower seeds, pumpkin seeds (if using hemp seeds instead, do not add them in), 1 ¼ cup shredded coconut and chia seeds. Pulse just until combined, you don't want to turn it into a "seed butter", you just want to break it down a bit, about 5-10 pulses depending on what kitchen tool you're using. Pour this mixture into a very large mixing bowl. Set aside.
3. Place quartered apples in your food processor. Pulse just until chopped up a bit, about 3-5 pulses, not a puree. Set aside.
4. Add the cassava flour, cinnamon and sea salt to the seed-coconut mixture (if using hemp seeds, add them now). Stir to combined. Add the chopped apples, maple syrup, avocado oil and vanilla extra to the seed-coconut-apple mixture. Stir to combine then fold in the ½ cup shredded coconut or coconut chips, dried apples and raisins and stir to combine again.
5. Spread the granola in an even layer on top of the parchment paper-lined baking sheet.
6. Bake for 30-40 minutes or until golden brown, making sure to check at the halfway point, about 15 minutes and give it a stir, then continue baking for another 15-25 minutes. Cool at room temperature for at least 30 minutes to allow it to continue to dry out.
7. Once the granola is fully cooled and dried out, break into chunky pieces. Serve as is or sprinkle on yogurt, smoothie bowls, ice cream or enjoy as a cereal with milk of choice.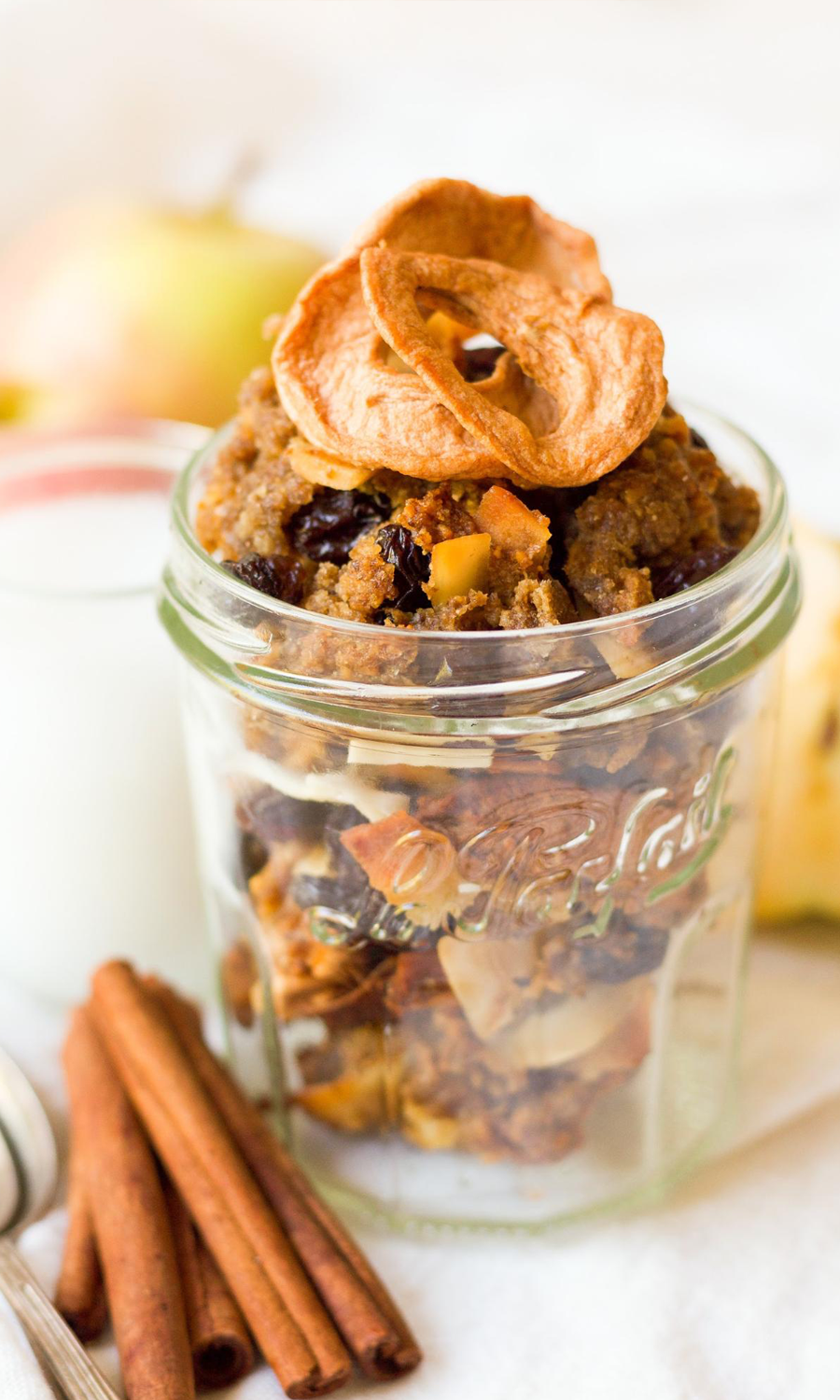 Notes:
Yield: 6-8 small servings
- This recipe is very forgiving with the ingredients. If you like nuts, by all means add them in (you'll want to process them at the same time you pulse the seeds). If you like hemp seeds, buckwheat groats, or pumpkin seeds, substitute some of those in for the seed mixture. If you can have grains and like gluten free rolled oats, omit some or all of the sunflower seeds and substitute with the rolled oats (if using rolled oats, do not grind).
- This granola is best eaten the same day. If using the next day, store in an airtight container in the refrigerator and reheat on a low setting in the oven to crisp it up a bit.
About The Author: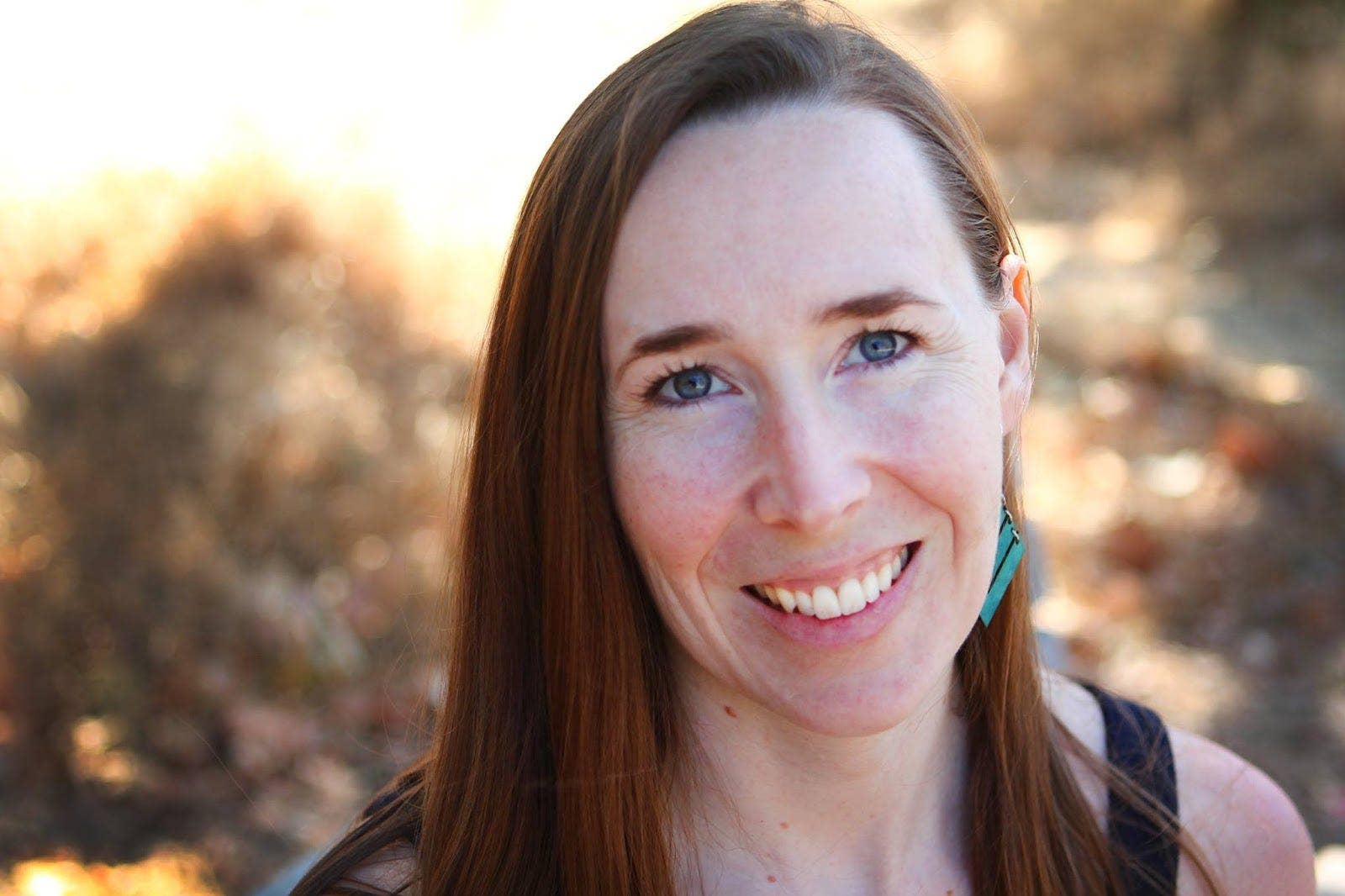 Emily Sunwell-Vidaurri is a water kefir- and chocolate-loving, holistic-minded wife and mom of two little loves. She's the author of the cookbook The Art of Great Cooking With Your Instant Pot and the founder of Recipes to Nourish, a gluten free blog focusing on real food and natural living. Emily is a contributing writer at Traditional Cooking School and her work has been featured on feedfeed, foodandwine, foodgawker, Nourished Kitchen, Delicious Obsessions, Homemade Mommy and in the cookbooks Beautiful Smoothie Bowls and 30 Minute Clean Eats on a Budget. She's a real foodie, passionate about nourishing home cooking, lover of seasonal food and an advocate of "green" living, essential oils and a mindful lifestyle. Her passion is to make healthy, natural living as uncomplicated and enjoyable as possible. Find Emily's latest recipes and natural living tips at Recipes to Nourish.
---