Breathable materials, waterproofing, potential allergens – with hundreds of different crib mattresses to choose from, doing the research is a daunting task. And, as most new or expecting parents know, so is making any decision about your baby's sleep safety without second guessing yourself. That's why we came up with a comprehensive guide with all you need to know about choosing a breathable crib mattress.
Naturepedic's Breath Safe™ Crib Notes™ guide is your step-by-step guide to choosing the best mattress for your baby. We've done the extensive research for you and have designed this helpful guide to give you detailed, understandable information that's organized for easy reference. In our Crib Notes, we define terms you may have heard but aren't familiar with, as well as demystify a lot of the conflicting information surrounding crib mattresses. Passionate about baby sleep safety, we take special care to answer questions about:

Breathability

Waterproofing and Hygiene

Organic Materials and Certifications

Non-toxic and Non-allergenic Materials
Crib Notes takes a deep dive into all the things you need to consider when choosing a crib mattress for your precious little one.
Breathable Crib Mattresses: Where to Start?
There are no set guidelines for making breathable crib mattresses, which means it's open for interpretation from one manufacturer to another. This makes vetting crib mattress options very confusing for parents. The first thing to remember is that it's your baby that must breathe, not the mattress. Making sure your child can safely breathe should always be the focus.
Did you know that parents of young children worry the most when their baby is sleeping – more than at any other time of the day? You're not alone, and you're already doing a great job protecting your baby just by trying to understand your safest option. Breathability is largely linked to baby sleep safety, so you're in the right place!
Of course, there are a lot of mattress options out there that offer some form of breathability. This is where things get messy (sometimes literally, as you'll see when we talk waterproofing!) Understanding the way a breathable surface is made and what else the crib mattress offers is key. That's why we're educating concerned parents like you on the myths and misunderstandings surrounding breathable crib mattresses, why waterproofing is non-negotiable and the importance of being certified organic.
Breathability: Practical Approach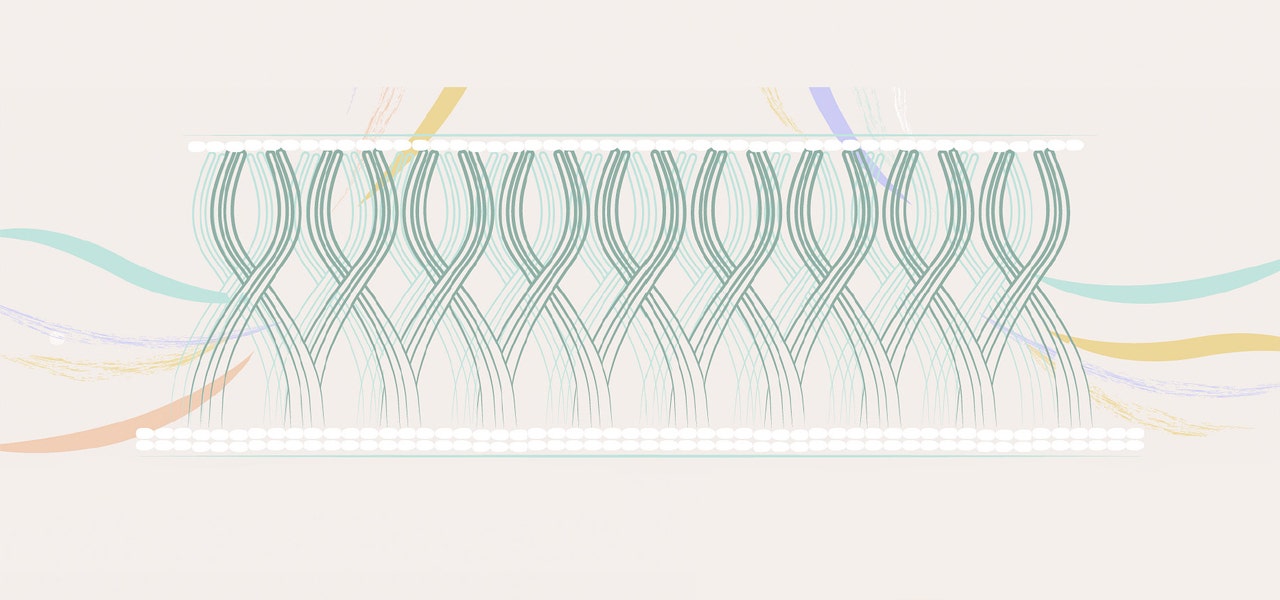 At Naturepedic we took a practical approach to breathability by engineering a simple, practical solution. Instead of making the whole crib mattress porous, we developed a breathable layer that is porous at the surface of the mattress and allows air to flow freely between the baby and the mattress. The gamechanger is that this breathable layer is also removable and machine washable.
Under the breathable layer, you get a fully functional waterproof and non-toxic crib mattress. This means you get all of the functionality you would expect from a quality crib mattress including:

Reinforced edge support

Pediatrician-recommended firm construction

2-stage firmness (to adapt as Baby grows!)

Organic certification
If the mattress underneath the breathable layer gets soiled, you can just wipe it clean (like you've always done with a waterproof crib mattress.) Or if the breathable layer is in the wash, you can either replace it with a spare breathable layer or just use the underlying mattress (like traditional crib mattresses have always been used.)
Hygienic Concerns: Waterproof and Machine Washable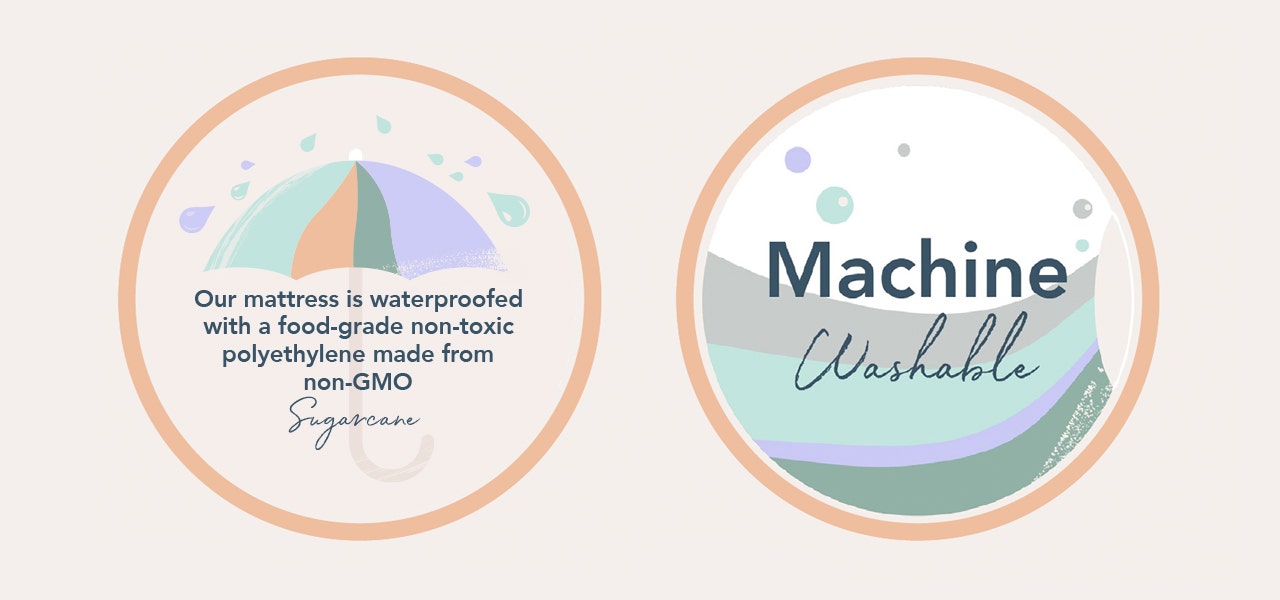 Babies make messes – fact. So, a crib mattress has to be easy to clean. Like we explained, our breathable, waterproof crib mattresses feature a removable breathable cover that you can easily wash, dry and keep clean. Super easy!
But, a breathable crib mattress should be waterproof, too. Otherwise, messes will seep into the surface fabric and lead to unwanted contamination, like mold and bacteria. That's why we waterproof our crib mattresses with a surface made of food-grade polyethylene made from non-GMO sugarcane. It's approved by GOTS (Global Organic Textile Standard) and MADE SAFE® and preferred by Clean Production Action/GreenScreen. This is important because many common waterproofing materials contain toxic chemicals.
By making the underlying mattress waterproof, we help you keep the mattress core free of microbial contamination. This way when accidents happen, you can simply wipe the surface clean … and hopefully go back to sleep!
Certified Organic – That's a Promise!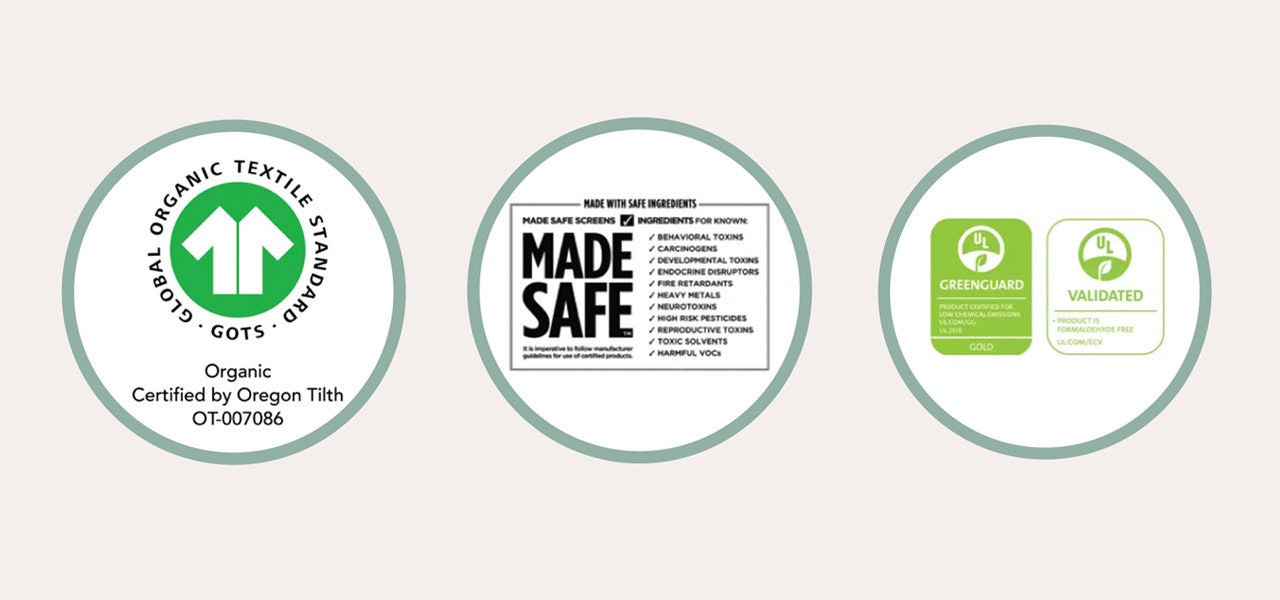 Being certified organic means we are held accountable for maintaining environmentally conscious, ethical, and sustainable business practices, as well as meeting and exceeding the standards required for organic certifications. Not only do we source the finest non-toxic and 100% certified organic materials, but our manufacturing facilities are also GOTS certified.
What this means is, you can trust that what we say is what we do.
Our range of GOTS certified, MADESAFE certified and GREENGUARD GOLD certified crib mattresses are all about creating a safer and more comfortable sleeping environment for your baby and your peace of mind.
Safe, Non-toxic and Non-allergenic Materials
At Naturepedic, we got our start as an organic mattress manufacturer because we were so committed to developing a crib mattress without the use of any harmful chemicals. We're still just as dedicated to ensuring no vinyl, phthalates, PFAS, polyurethane foam, flame retardants, formaldehyde, pesticides, GMOs, glues or adhesives in any of our mattresses.
We go even go one step further when it comes to the materials we use in our breathable crib mattresses. That's because we understand that even some organic materials – namely, latex – can cause problems. Latex is a known allergen, and organic latex contains certain proteins that are even more allergenic than synthetic latex. For adults who do not have a latex allergy, latex can be a great option for mattresses. However, it's impossible to know what a newborn baby is allergic to, and we know the safest option is to remove the risk by not using latex for crib mattresses at all.
Download the Full Crib Notes for Yourself
This was just a brief overview, though we hoped it helped to ease some of the worry about shopping for a breathable crib mattress. You can learn about all this and more by visiting our Crib Notes page and downloading the complete guide. Because, at the end of the day, you need to make the most informed decision for your baby.
---