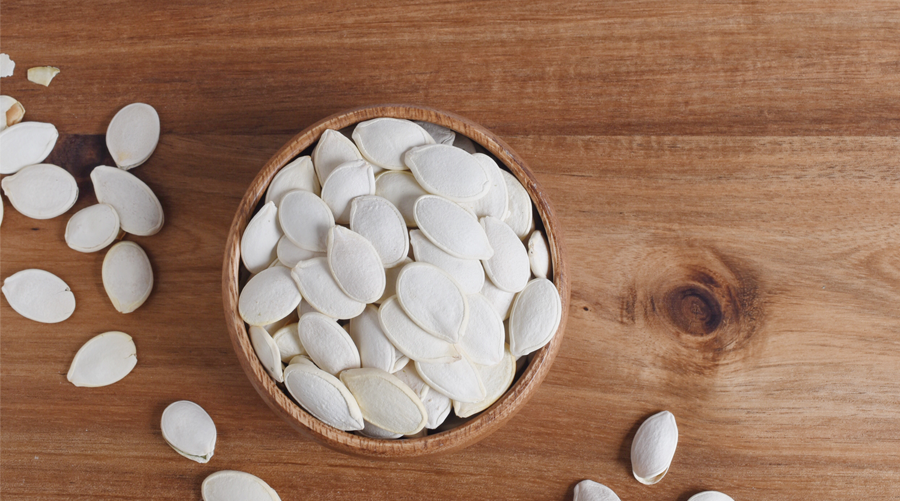 Enjoying pumpkin-flavored everything is a staple of the fall months, but what can you actually make from a pumpkin?
After scooping out the insides of your jack-o-lantern, you'll be left with a mess of goop that's full of pumpkin seeds. This goop might seem slimy and useless, but this is the part of the pumpkin that contains a treasure trove of snackable autumn goodness.
Roasting or toasting pumpkin seeds and salting them is the most common way to enjoy pumpkin seeds. However, there are plenty of creative ways to cook with pumpkin seeds that are as fun to create as they are healthy!
On National Pumpkin Seed Day, get inspired to use all of those leftover seeds that come spilling out of your jack-o-lanterns in these 5 creatively delicious ways.
That's right, you can put a new spin on the tomato salsa you've been making at home by infusing pumpkin seeds into your usual recipe. This Yucatan-inspired salsa can be served with tostadas or as a snack with veggies. The unique flavor will become a favorite of the fall, and if you want to make it extra spicy, you can add dried guajillo chile peppers for a little more kick.
If you're simply in search of a new way to enjoy crunching on roasted pumpkin seeds, why not flavor them with honey? While this isn't the healthiest option, it definitely is indulgent. By mixing butter, honey, brown sugar, and salt together, this recipe will turn any bland pumpkin seed into a sweet, caramelized treat.
For a snackable treat that you can munch on in the evenings or take on the go, making pumpkin seed brittle is a great way to embrace several fall flavors in one treat. By combining spices like cinnamon, nutmeg, and cardamom with a sprinkling of vanilla bean, your pumpkin seed brittle will be teeming with savory flavors, which is perfect for October.
With relatively little added sugar, this recipe for pumpkin seed granola is chock-full of quinoa, sunflower seeds, and of course, pumpkin seeds, which makes for a cozy seasonal blend. Add granola to your morning oatmeal, to yogurt, or even to top off an ice cream sundae. The flavors in this recipe are perfect for fall when the weather is crisp, and you can add as many pumpkin seeds as you like!
If you're looking for a healthier alternative to oil and butter-heavy baked goods, this recipe for vegan pumpkin bread with cranberries and pumpkin seeds is your best bet. You can even put your own spin on the recipe by experimenting with other ingredients you like, such as grated orange zest, pureed butternut squash, or even chocolate chips. This works well as bread or as muffins.
Why not start off the fall with some new healthy habits? At Naturepedic, our mission is to promote healthy living in every aspect of your family's life -- from the moment you wake up until the moment you fall asleep on one of our organic mattresses. Learn more about our product line for adults, kids, and babies HERE.
---