Ah, the all-important baby registry! For some expecting parents, selecting top baby registry items is like unleashing a kid in a candy store. For others, it's very overwhelming. Either way, if you're interested in making an organic sleep space for your baby, we can help you focus!
Creating a safer, healthier nursery – a space that supports both Baby's well-being and the planet's – adds another layer of research for you and your gift-giving friends and family. Let Naturepedic, the experts in organic crib mattresses and baby accessories, help.
Why Organic Matters in the Nursery
If you pay attention to environmental news, you've probably heard of VOCs – volatile organic compounds. These potentially harmful chemicals off-gas into the air we breathe and can cause a host of health problems ranging from mild headaches and asthma to the severe: liver and kidney damage, central nervous system damage, and cancer.
Certainly, something that harmful wouldn't be found in common household items … right? Wrong. Damaging levels of VOCs can be found in non-organic products all over the home, from paint to cleaning products to even, you guessed it, conventional crib mattresses. Concentrations of VOCs are consistently higher indoors than outdoors ­– and are often the highest in nurseries, due to all the new furnishings and décor we purchase in preparation for new babies.
Remember when we said that infants are especially vulnerable to toxic chemicals? That's because infants inhale significantly higher air volume per body weight than adults do … and they sleep a longer time, too! (16+ hours a day for newborns.) That means they can experience 10x as much inhalation exposure to VOCs as adults do.
So, VOCs are often at their highest in nurseries, where our most-vulnerable family members spend most of the day sleeping. That's why choosing organic matters in your nursery.
Our Organic Nursery Baby Registry Checklist – 7 Must-Haves!
Crib mattresses and changing tables and play mats – oh baby! If you're not sure where to start when planning your organic baby registry, Naturepedic has you covered. Here are seven must-have organic baby essentials to get you started.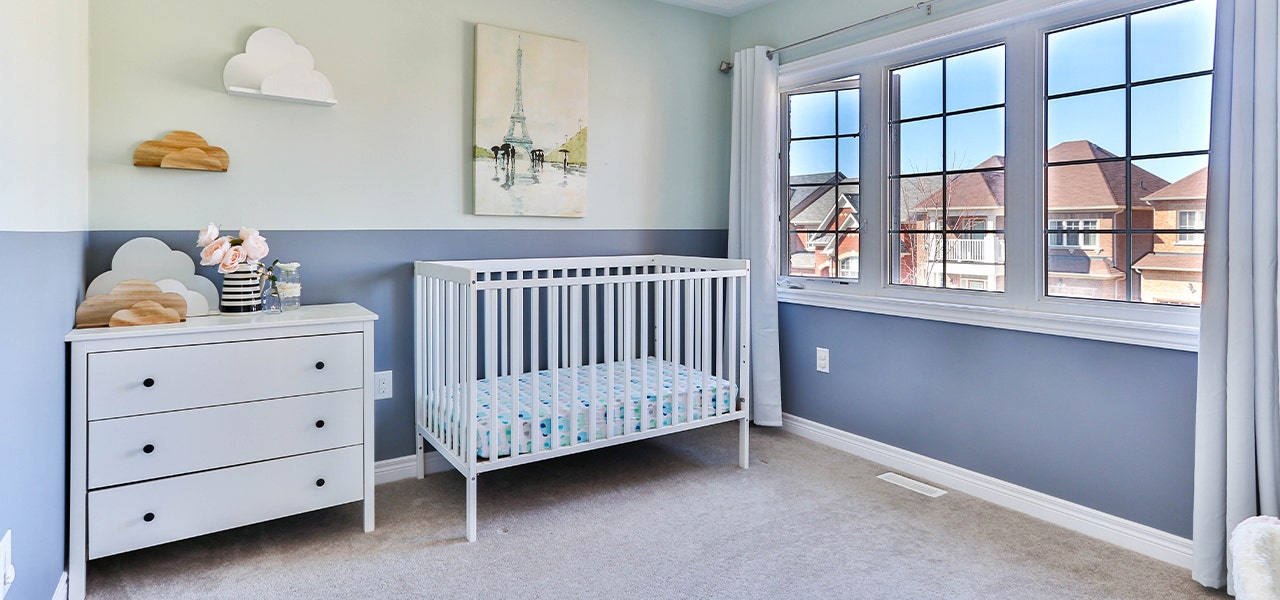 1. Crib
This one's a no-brainer: the main attraction in your baby's nursery will undoubtedly be their crib! When shopping for a non-toxic crib, your best bet is one made 100% of solid, unfinished wood (or wood finished with a food-grade oil).
This isn't just the best non-toxic option for your little one's sleep space, but also the most durable option. You may notice that wooden cribs cost more than other options, but remember that you're making an investment that will last you for years to come – and you're investing in your little one's health, too! Get more info non-toxic crib tips here.
2. Crib Mattress
The crib may seem like the main event of your nursery, but the crib mattress is where the magic really happens. With babies spending 16+ hours a day on their mattress, it is the single, most prominent item in their infant lives. They'll spend more time there than they will in your arms some days!
When choosing a crib mattress, you want to start with a GOTS certified organic, MADE SAFE® certified non-toxic option. Conventional crib mattresses contain a slew of harmful chemicals, including known carcinogens and endocrine disruptors, so ensuring chemical safety is a must.
Next, you'll want to make sure your crib is waterproof, to protect your baby from bacteria, mold and other yuckiness when accidents happen – and they will! A waterproof crib mattress will also protect your own sanity with no-hassle middle-of-the-night cleanings. You'll want to consider breathability, too, for added safety and comfort – just make sure you're not sacrificing the hygienic safety of waterproofing.
Looking for a crib mattress that's certified organic, breathable and waterproof? There's only one on the market: check out the Naturepedic Organic Breathable Baby Crib Mattress.
PRO TIP! Avoid known allergens, too! Many organic, non-toxic crib mattresses are filled with latex instead of polyurethane foam, but latex poses its own issues. Learn more here.
3. Waterproof Protector Pad
Like we said, accidents will happen … and the best offense is a good defense, so it's best to be prepared. Your organic baby registry needs a waterproof protector pad!
A waterproof protector pad can transform any mattress into an easy-to-clean, hygienic option. (And when it comes to your baby's health, compromising on hygiene isn't an option.) Even if you've got a crib mattress with non-toxic waterproofing, having a waterproof protector pad on hand adds an extra layer of security against messes, protects the mattress from wear and tear, and is great for traveling!
4. Crib Sheets
Choosing organic cotton crib sheets doesn't just protect your baby from toxic chemicals. Organic cotton is super soft for your baby's comfort and is breathable, too. This helps your little one regulate their body temperature – no hot and sweaty babies on organic cotton sheets!
Remember, when it comes to bedding, a snug, fitted sheet is all you need. Pillows, flat sheets, blankies and toys pose suffocation risks in a crib, and are major safety no-nos. Keeping it simple = keeping it safe.
5. Changing Table and Pad
When it comes to choosing the right changing table, remember our advice for crib shopping: solid, unfinished wood is best. You'll also want to make sure that any drawers, rails or other features on your changing table are wooden, too.
However, when it comes to changing pads, you'll find a lot more variation among organic options. Here are the basics you need to remember:
6. Rugs
If your home has hardwood floors, you'll probably want to add a rug to your nursery to keep things cute and cozy – and to prevent any bumps from tumbles when your not-so-little one starts crawling and walking. But what will be safe for your little one to crawl, roll, play and snuggle on … while also being durable enough to survive drink spills, toys, messes and more? Certified-organic cotton, of course!
7. Play Mat and Toys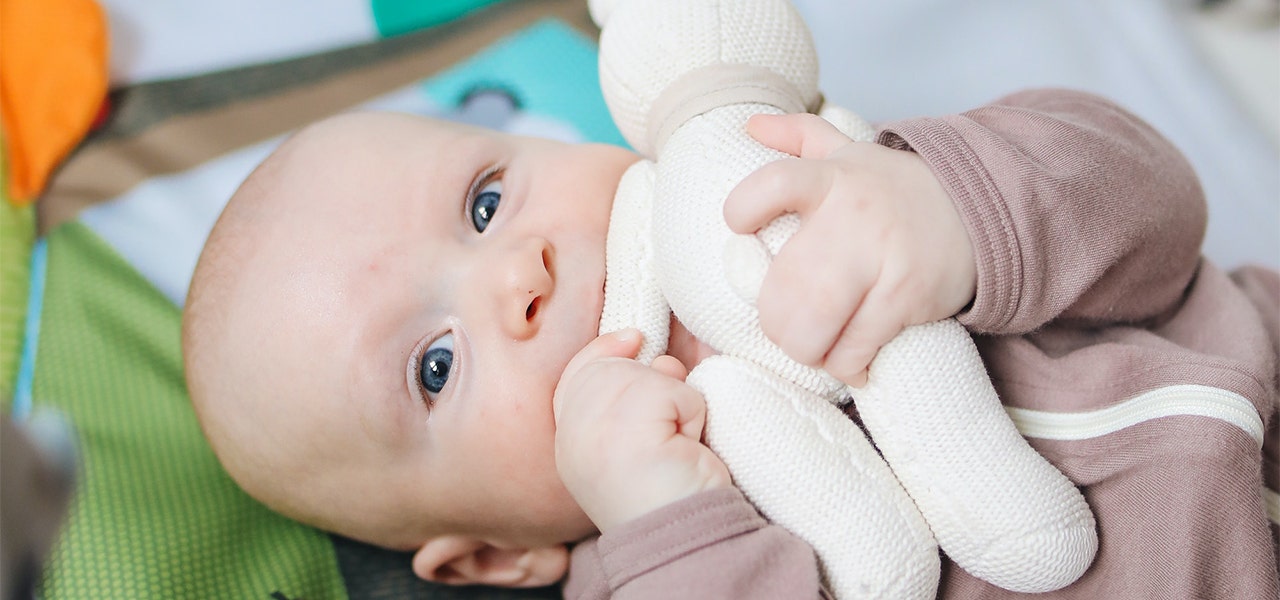 For loved ones, gift giving can be as rewarding as gift receiving is for you – so you'll want to add some cutesy, fun items to your registry to tickle their fancy.
It's shocking that baby toys are often made with potentially harmful chemicals and materials, but with a little research you'll be able to find adorable, certified organic toys that will comfort and stimulate your growing baby. A general rule of thumb: stay away from inexpensive plastic toys since they often contain endocrine disruptors, like phthalates, that can cause a lot of harm.
As far as playtime goes, a play mat is another great baby registry essential! A play mat provides a clean and safe surface for all the feeling, discovering and developing your little one has ahead of them. Just make sure you choose a certified organic, non-toxic option – because toxic chemicals are the opposite of what playtime is meant for: fun!
Looking for more baby registry inspiration? Shop Naturepedic's Baby Collection for safer, healthier baby sleep essentials – all certified organic and non-toxic, of course. You can also take the next step in your baby-preparation journey with these tips for setting up your baby's nursery!
---
---