One of the most exciting parts of preparing for your baby's arrival is designing the perfect nursery. With so many incredible (and incredibly cute!) color palettes, furniture brands, and nursery must-haves to choose from, moms-to-be have a lot of decisions to make when it comes to designing a nursery.
When planning your baby's nursery, it's essential to choose items that are organic and eco-friendly by nature.
Why is this so important?
Choosing nursery items that are both eco-friendly and non-toxic means you'll reduce your personal carbon footprint on the environment and make green living a priority in your family's lifestyle. This is because natural materials don't contain the chemical additives that synthetic (man-made) materials do, which makes it easier to keep the level of volatile organic compounds (VOCs) to a bare minimum in your little one's space.
But sometimes, integrating organic products into a nursery is easier said than done, especially if you're working with a small space. If you only have a tiny room to work with — or, in some cases, a spare closet — it can be challenging to harmonize everything you want and need for your baby amidst the space's limitations.
Naturepedic's First Sustainable Nursery Giveaway
Because we believe so strongly in the importance of a healthy start for babies and young families, we launched our very first Naturepedic Sustainability Nursery Makeover Contest. Our winner, Lauren Ametrano, was selected as our recipient of a fully sustainable and eco-friendly nursery makeover for her rainbow baby, Alorah, who was born in March 2021.
This particular project required some extra creativity, as the dedicated nursery space was originally a closet! While the Ametrano family's predicament might seem unique, many families are also sometimes severely limited in the space they can dedicate for their little one's nursery.
Finding the right size items that would fit within the tiny spice while still keeping the safety and material make-up of each product top of mind was a challenge, but we had a designer up for the task!
By partnering with health-forward interior designer, Stephanie DeBrincat of Rockabye Mommy, we created a sustainable nursery space with organic furniture and products to ensure that Alorah not only has the healthiest room possible, but that she has the nursery of her dreams.
The Rockabye Mommy team's commitment to pushing the boundaries of creativity while still integrating healthy, non-toxic materials and furniture in the design made the makeover a breeze.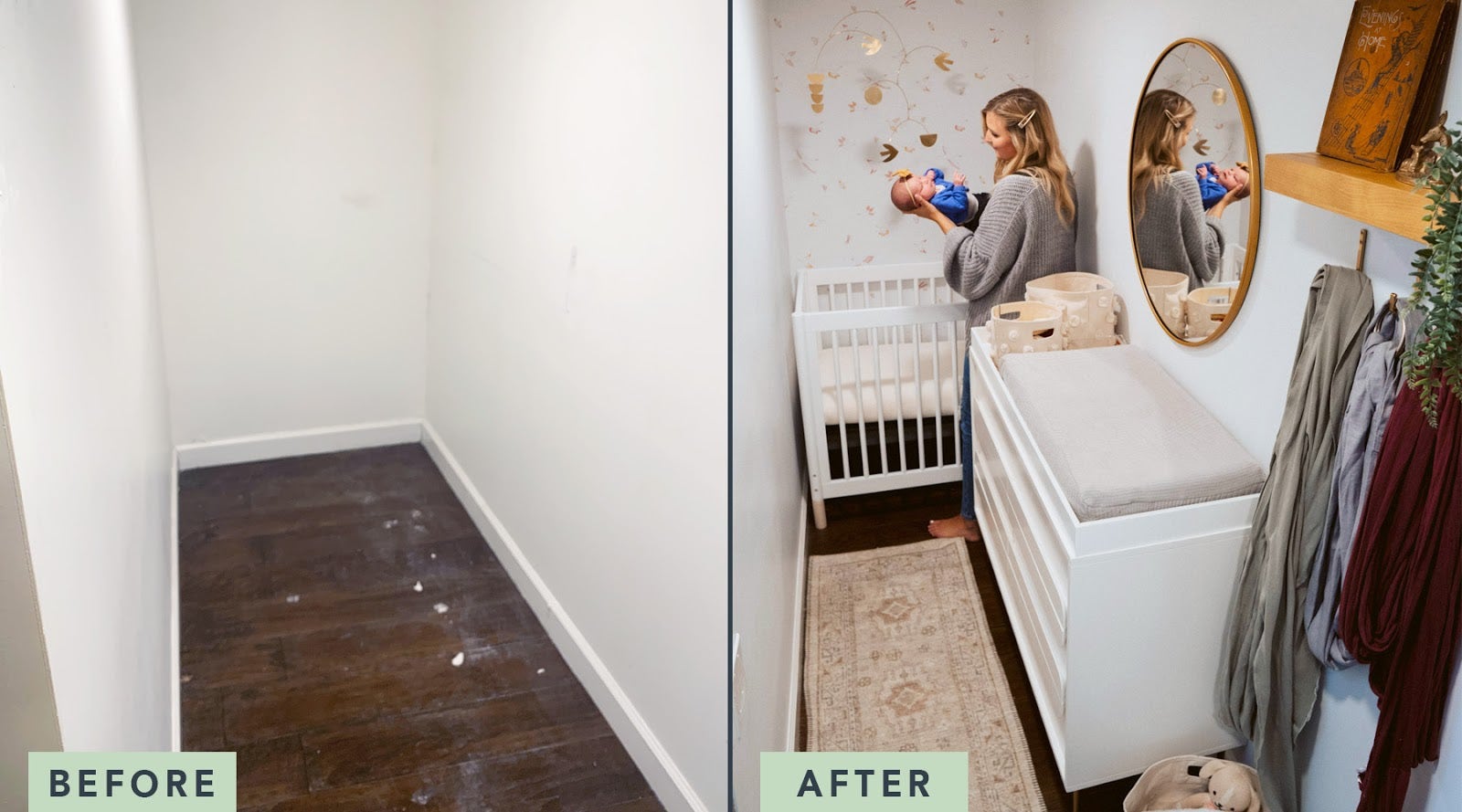 "When planning our nursery, I honestly didn't think it would be possible to convert our closet into a functional space for our rainbow baby," said Lauren. "We were over-the-moon when we found out Naturepedic would be gifting our family with not only a full makeover, but transforming it into a sustainable, non-toxic space. I am forever grateful to Naturepedic and Stephanie for creating a safe, beautiful nursery for our newborn."
As part of the makeover, Naturepedic gifted Alorah one of our GOTS-certified, MADE SAFE-certified non-toxic crib mattresses—our Organic Breathable Mini Crib Mattress. This mattress was the perfect addition to Alorah's new nursery, as it's hand-crafted with small nurseries in mind.
Not only is the crib mattress (and all of our crib mattresses!) free from harmful chemicals, materials, and allergens like latex, but it's also breathable and waterproof. Moreover, all Naturepedic crib mattresses feature the most non-toxic waterproofing on the market made from non-GMO sugarcane—which is so pure, it actually meets food contact standards and easily wipes clean!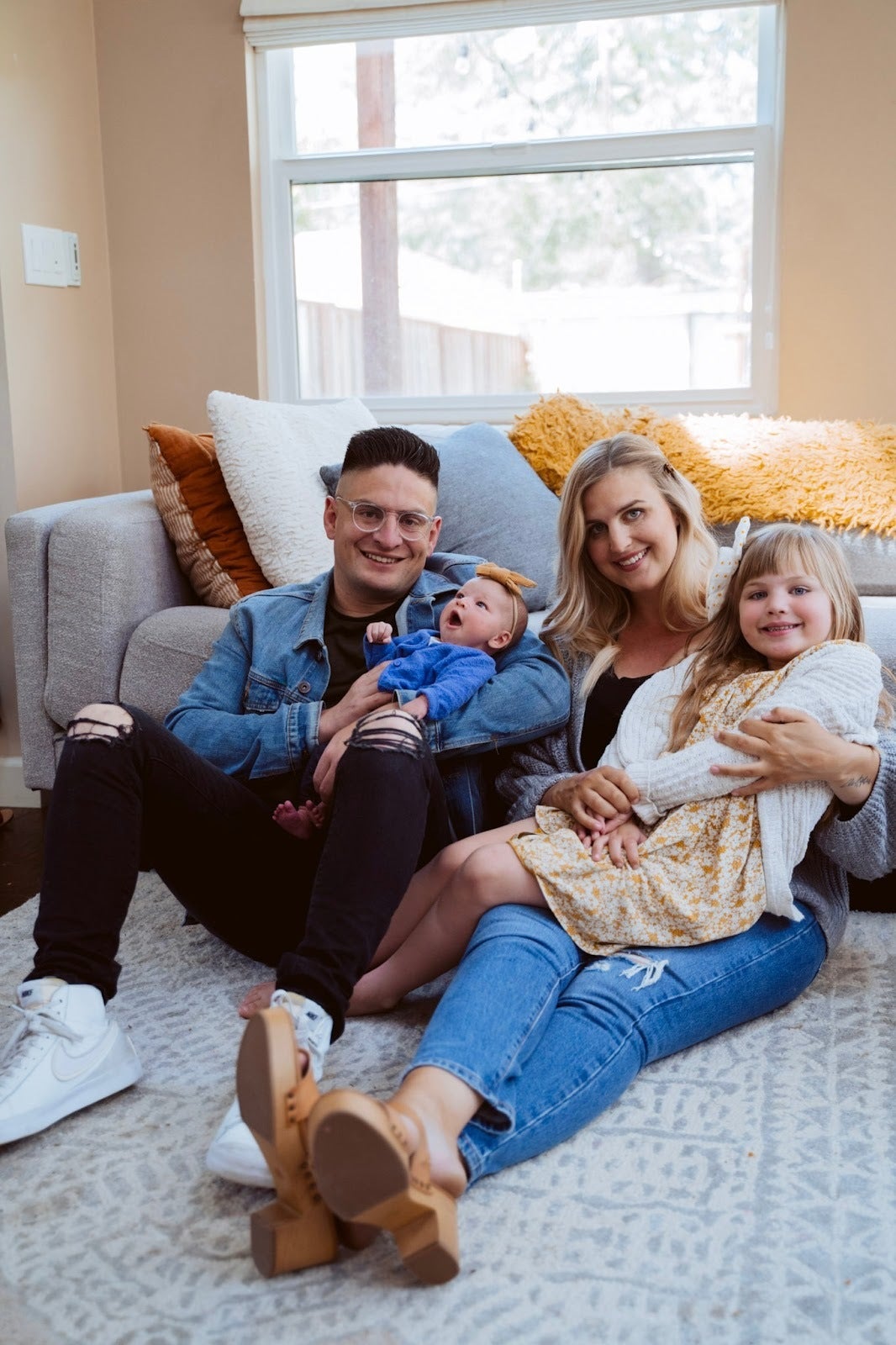 In addition to the crib mattress, Lauren and Stephanie worked together to select other size-appropriate items and furniture to complete the makeover. Some of the products they chose included:
Babyletto Gelato Convertible 2-in-1 Mini Crib

(GREENGUARD Gold Certified)
Pehr & Chasing Paper Collection Peel-and-Stick Wallpaper

(Printed with GREENGUARD Certified latex inks)

European Flax Natural Linen Curtains

(Fair Trade drapery made with 100% organic linen)

Gemini 6 Drawer Dresser

(GREENGUARD Gold Certified, lacquered using water-based paint, and made with wood that's FSC certified)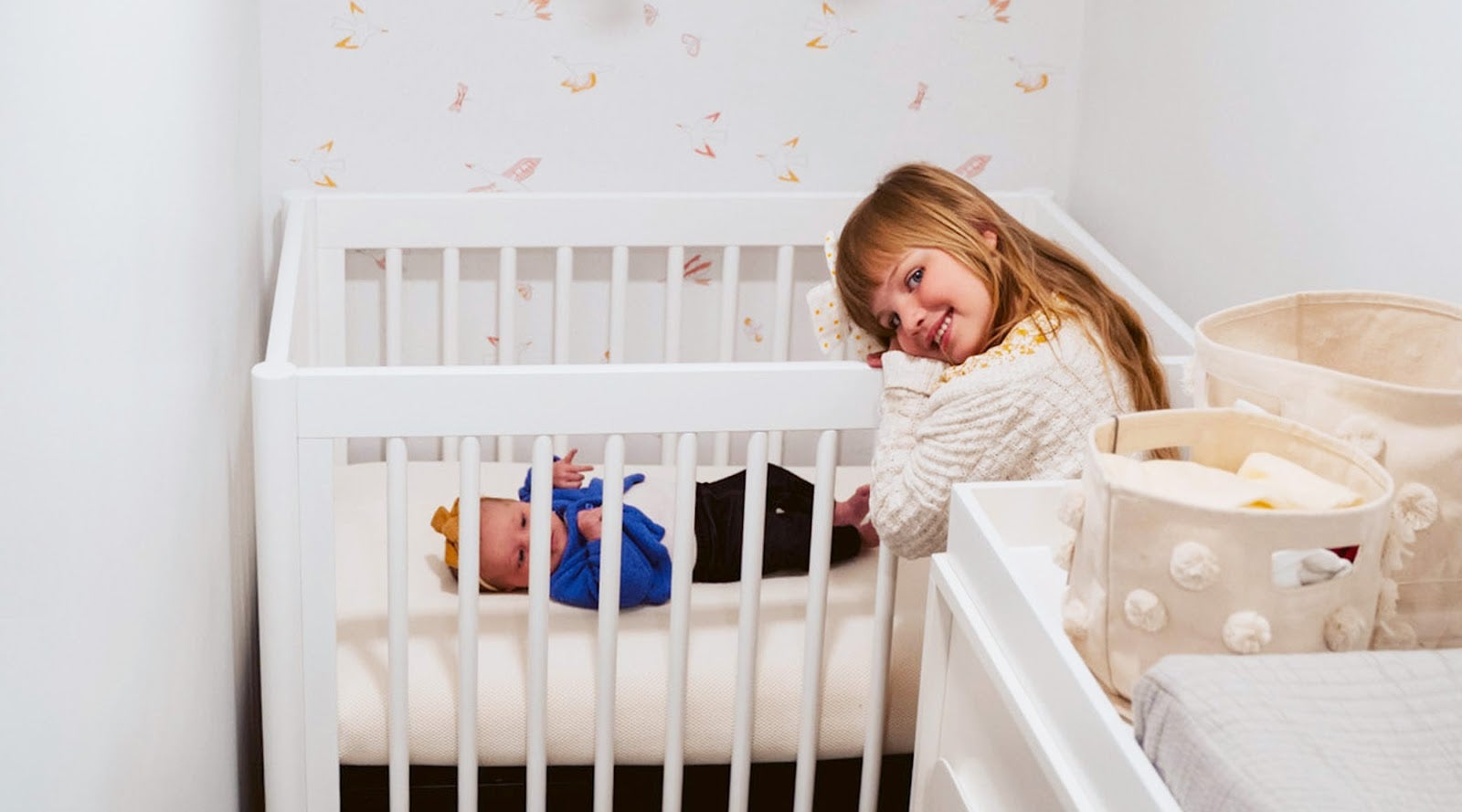 Giving Your Baby the Best Start
When it comes to your baby's health and giving them the best start, there is just no room for compromise. That's why we believe so strongly in eliminating chemicals such as flame retardants, adhesives, and other questionable chemicals from all of our baby (and adult!) products.
Just like Alorah's closet-turned-nursery transformation, we want to give babies their best start by ensuring that their sleep environment — where newborns spend between 14 and 17 hours of every day — is filled with high-quality, organic products made with natural, non-toxic ingredients that don't carry any risk.
To equip your baby's nursery with safer, healthier products, you can explore our full range of organic baby items here, including our Breathable Crib Mattresses, Crib Sheets, Changing Pads, Protector Pads, and more.
---