You've got one million things to worry about when preparing for your new baby. But, considering newborns sleep up to 16 hours a day, crib safety should be high on your list. When your little one isn't in your arms, you want their crib mattress to be the safest place for them to be.
This can make crib mattress shopping a daunting task. There are so many crib safety factors to consider – toxic chemicals, breathability, waterproofing, oh my…
Luckily, you've got the experts here at Naturepedic on your side. By the end of this blog post, you'll be a crib-mattress expert, too! In honor of Baby Safety Month, we're answering the top crib mattress questions we hear all the time. Stick around 'til the end for a special introduction to the only certified organic, breathable and waterproof crib mattress on the market. (Hint: It's a Naturepedic!)
Crib Safety Essentials for Safe Newborn Sleep
When it comes to crib mattress safety, there's a golden rule you should always start with. For your baby's safety, you must:
Lay your baby down to sleep on their back

Choose a firm mattress that fits your crib snugly

Allow no soft bedding, blankets, pillows, bumpers or toys in the crib
This will greatly reduce any dangers associated with entrapment, suffocation, strangulation and more. It also may reduce the risk of SIDS, or sudden infant death syndrome.
Is There a Standard Crib Mattress Size to Ensure Fit?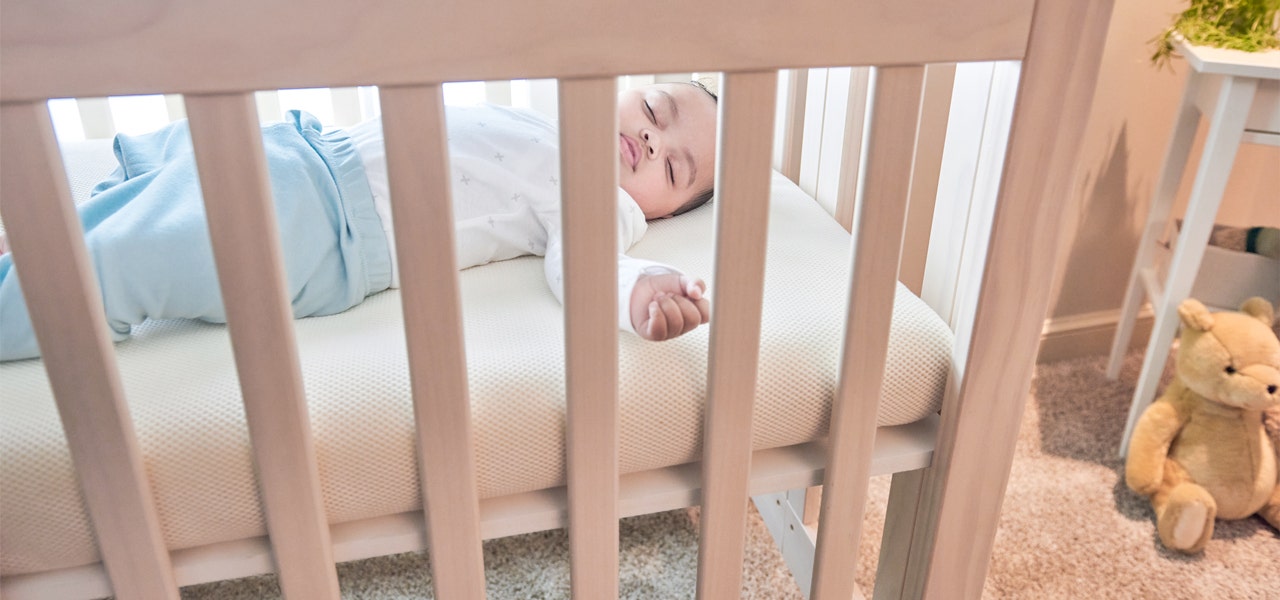 When shopping for a mattress, choosing what size we need is usually a big part of the shopping process – do you want a full, queen, king, etc. Fortunately, when crib mattress shopping, this doesn't apply. Although the numbers can vary slightly, there is a standard crib mattress size of approximately 28" x 52". No king-sized cribs for Baby!
The most important size-related issue to consider is to ensure that the mattress fits snugly inside your crib. There should be no gaps larger than two fingers when properly installed to avoid any trapped legs or accidental rollovers, which can be quite dangerous.
7 Things to Know About Crib Mattress Safety
Okay, so you've got a crib mattress that fits right and a baby who's laying on it right – that means our work here is finished, right?
Only kidding! We've only scratched the surface of all that goes into crib mattress shopping. So, without further ado, here are your top seven crib mattress safety questions, answered:
1. Is an Organic Crib Mattress Really Healthier?
The answer is a resounding yes. This is because conventional crib mattresses contain questionable chemicals and materials, such as:
Flame retardants and chemical flame barriers

Formaldehyde

Vinyl with phthalates

Polyurethane foam

Glues/adhesives
If babies sleep for up to 16 hours a day, that means that the most prominent object in your child's environment for the first few years of their life is probably their mattress. So, is it healthier for that mattress to be doused in toxic chemicals and made with questionable materials? Or made from certified organic and non-toxic materials? The answer is clear.
2. How Can You Be Sure a Mattress Is Really Organic?
At Naturepedic, we believe that a mattress isn't organic unless it's certified organic. And the certification that you're looking for when it comes to organic products is GOTS.
The GOTS certification – Global Organic Textile Standard – is the worldwide leading textile processing standard for organic fibers. In addition to fibers, finished products and manufacturing facilities can also be GOTS certified organic. In fact, the Naturepedic factory is GOTS certified!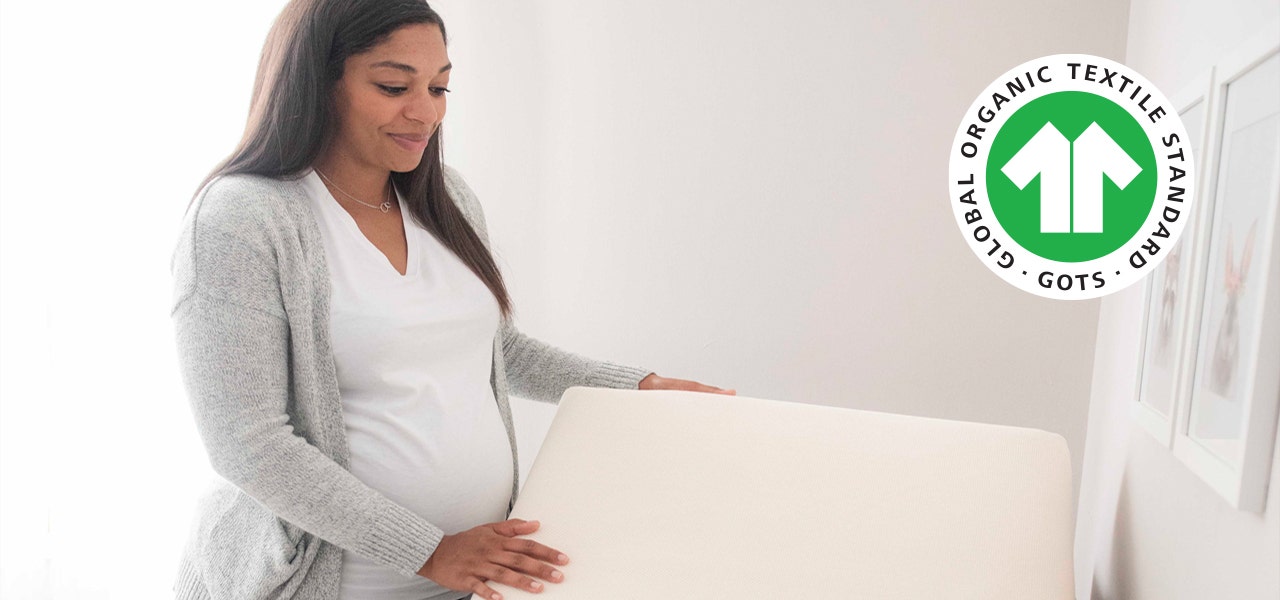 3. Breathable vs. Organic: Which Is More Important?
It's important for a crib mattress to be breathable, and it's important for a crib mattress to be organic. However, if the mattress is breathable, the organic part is even more important.
If a baby can breathe into the mattress, it begs the question, "Is the air that the baby is breathing safe?" Using organic, non-toxic materials ensures that flame-retardant chemicals and other questionable materials won't off-gas into the air your baby breathes. Naturepedic is the only manufacturer that makes crib mattresses that are certified organic, breathable and waterproof.
4. Are Breathable Crib Mattresses Tested in Some Way?
Yes. Manufacturers can get their breathable crib mattresses tested to see how breathable the mattress really is. A third-party lab (Intertek) places a device on the mattress surface that mimics a baby breathing face down. The device measures the air resistance to determine if the surface is truly breathable or not.
The breathability test is scored between 0 and 100, with a lower score denoting higher breathability. Any score lower than a 16 is a passing score, meaning that a baby can breathe through the surface indefinitely. Naturepedic breathable crib mattresses score a two, which is about the best you can get.
We've tested other "breathable" crib mattresses on the market (including the ones that are breathable all the way through), and no other mattress scored lower than a two. In fact, most of them scored higher.
5. How Do You Keep a Crib Mattress Clean?
This depends a lot of the type of mattress you get. At Naturepedic, we always recommend a waterproof crib mattress. To clean our waterproof crib mattresses, you can simply wipe the surface with a damp cloth. You can use a mild cleanser on the soiled surface or some hydrogen peroxide or alcohol to sanitize. All Naturepedic breathable models have removable, machine washable and dryable covers, and the waterproof surface underneath can be cleaned per the previous waterproof instructions.
6. Waterproof vs. Washable: Which Is Better?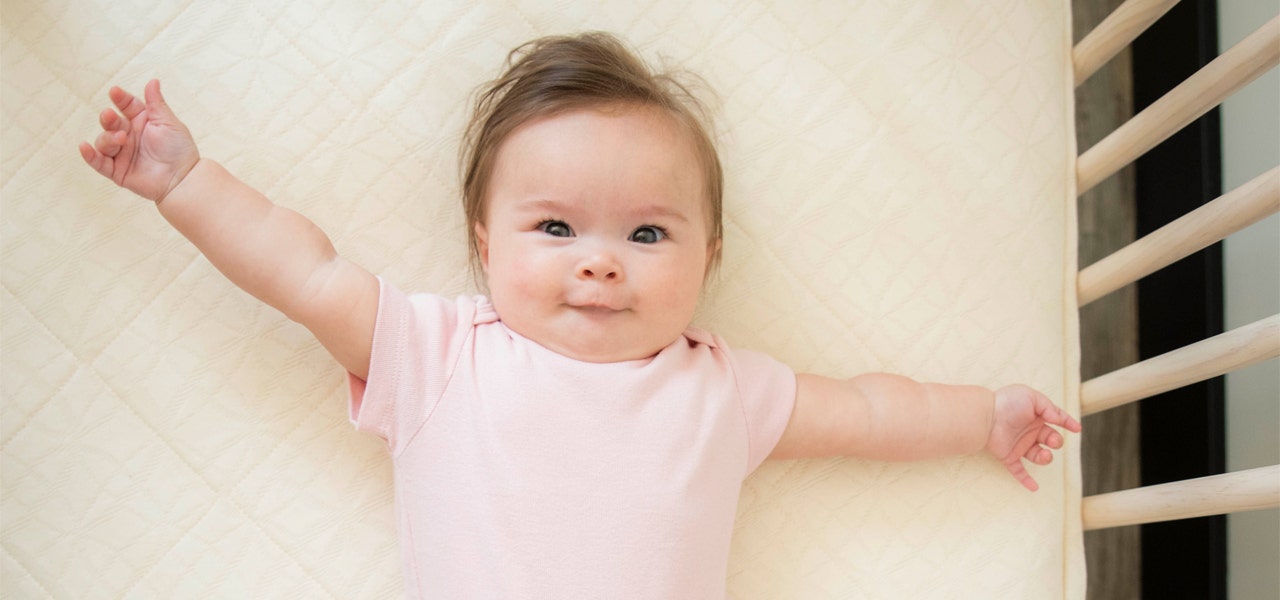 Some manufacturers advertise that their breathable mattresses are 100% washable, which reduces the risks associated with mold, mildew and fungal growth in non-waterproof mattresses. But there are quite a few problems here.
For starters, scrubbing the inside of a "washable" mattress is essentially impossible, so no matter how hard you try to clean it, microbial contamination can remain. The mattress won't fit in a standard washing machine, either. This means you are hand washing it in your shower or tub, which can be cumbersome and quite inconvenient –especially when Baby has an accident at 2 a.m.
Also, washable mattresses have to air dry. This means that you'll have to find somewhere else for your baby to sleep while you wait hours for the mattress to dry. And, if you accidently remake the bed before it's dried out completely, might just end up with even more microbial contamination than before.
When it comes to crib mattresses, waterproof is ideal. You just want to make sure that the waterproofing isn't made from toxic chemicals. Naturepedic uses a food-grade polyethylene waterproofing material made from non-GMO sugarcane to ensure an easy clean for your convenience, a non-toxic mattress for Baby's health and a hygienic mattress for their safety.
7. What Allergens Do You Need to Consider?
The top two allergens you need to be on the lookout for in crib mattresses (and kids mattresses when baby grows up!) are latex and wool. Latex, specifically, is commonly used in organic crib mattresses as a substitute for other questionable materials.
But latex is a severely allergenic material – and the place to test that allergy is not your baby's mattress, where they spend up to 16 hours a day in dreamland. Naturepedic crib mattresses are made without allergenic materials like latex and wool, and instead made with safer materials like GOTS certified organic cotton.
Meet the Only Certified Organic, Breathable, Waterproof Crib Mattress on the Market
The Naturepedic Organic Breathable Baby Crib Mattress combines breathability and waterproofing for a safer, healthier and more hygienic crib mattress design – GOTS certified organic, of course!
The mattress starts with a firm, flat waterproof surface made from non-GMO sugarcane. We then add a breathable cover with a soft organic cotton surface for increased airflow. This unique design creates airflow under the baby to improve their temperature regulation and increase breathability, while maintaining a hygienic, convenient, easy-to-clean mattress underneath.
All the safety features you need are wrapped up in one safer, healthier, more hygienic, certified organic crib mattress design. Learn more about our crib mattress options below.
---
---