Sustainable Nursery Giveaway
Naturepedic is thrilled to announce its first Sustainable Nursery Giveaway! We've teamed up with health-forward interior design firm Rockabye Mommy + pregnancy to motherhood resource site Baby Chick to give all you expecting mama's more info on how and why it's so important to create an eco-friendly, non-toxic nursery for your newborn. We'll be choosing one lucky winner to receive an entire sustainable nursery makeover!
Up to a $3,500 value—this giveaway will include a virtual design consultation with Rockabye Mommy's Stephanie Debrincat, Naturepedic's suite of certified-organic baby sleep products, Coyuchi's organic products, and more!
Available for entry from November 17th through December 16th, be sure to fill out the form below and tell us all about what interests you the most about designing a nontoxic, organic, safe haven for your baby. The runner up will receive a Naturepedic Organic Crib Mattress of their choosing. Be sure to read all of the guidelines and check out our educational resources below.
Thanks for entering and good luck!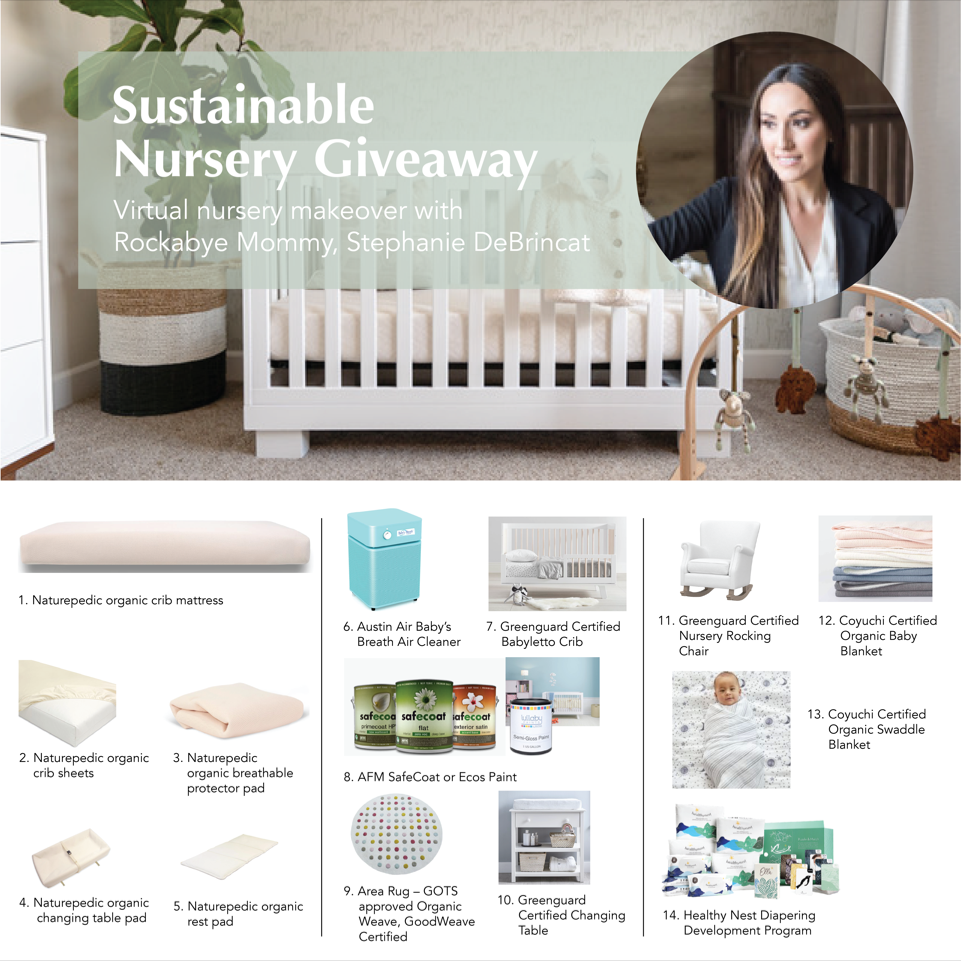 The $3,500 prize for a lucky mom-to-be will include the following:
Sustainable Nursery Makeover Giveaway Official Sweepstakes Rules


Please read these rules before entering the "Sustainable Nursery Giveaway" (the "Sweepstakes"). You agree that, by entering this Sweepstakes, you will be bound by these Official Sweepstakes Rules (the "Rules") and you acknowledge that you satisfy all Sweepstakes eligibility requirements.
NO PURCHASE IS NECESSARY TO ENTER OR WIN. A PURCHASE WILL NOT INCREASE YOUR CHANCE OF WINNING. THE ODDS OF WINNING DEPEND ON THE NUMBER OF ELIGIBLE ENTRIES RECEIVED DURING THE SWEEPSTAKES PERIOD.
Sweepstakes Description and Timing. The Sweepstakes begins at 12:00 a.m. Eastern Standard Time ("EST") on Monday, November 16 2020 and ends at 11:59 p.m. EST on December 16, 2020 (the "Sweepstakes Period"). Naturepedic's computer is the official time-keeping device for the Sweepstakes. Winner announce December 18, 2020.
Eligibility.The Sweepstakes is open only to legal residents of the fifty (50) United States of America and the District of Columbus ("U.S.") who are at least eighteen (18) years of age on the date of the Sweepstakes entry submission ("Entrant"). Naturepedic employees and their immediate families (spouses and siblings, parents and children and their spouses) and owners, employees and immediate family members of Naturepedic's parent companies, subsidiaries and affiliates, distributors, dealerships, licensees, retailers and companies involved in the implementation and execution of the Sweepstakes (collectively the "Sweepstakes entities") are not eligible. The Sweepstakes is subject to all applicable laws and regulations and is void where prohibited by law.
Sponsor. This Sweepstakes is sponsored by Naturepedic. Naturepedic is located at 16925 Park Circle Drive, Chagrin Falls, Ohio 44023 U.S.A.
How to Enter: Fill out the entry form on this landing page. One entry per person. Entries become the property of the Sponsor.
Any attempt by any Entrant to obtain more than the stated number of plays by using multiple/different email addresses, identities, registrations and logins, or any other methods will void that Entrant's plays and that Entrant may be disqualified. In the event of a dispute as to any registration or play, the authorized account holder of the email address used to register will be deemed to be the Entrant.
Prizes. Of the "Sustainable Nursery Makeover" submissions, one (1) eligible Entrant will be randomly chosen to receive: Virtual nursery makeover for a lucky mom-to-be from Rockabye Mommy – Stephanie (Value $750), Naturepedic organic crib mattress (Value $250-$400), Naturepedic organic crib sheets (Value $29), Naturepedic organic waterproof or breathable protector pad (Value $59 - $99), Naturepedic organic changing table pad (Value $99), Naturepedic organic rest pad (Value $99), Austin Air Baby's Breath Air Cleaner (Value $450), Greenguard Certified Babyletto Crib (Value $379), AFM SafeCoat Paint or Ecos Paint (Value $200) Area Rug – GOTS Organic Weave or Lorena Canals Rugs (Value $150 - $600), Greenguard Certified Changing Table (Value $200 - $400), Greenguard Certiifed Nursery Rocking Chair (Value $200 - $800), Coyuchi Certified Organic Baby Blanket (Value $50 - $128), Coyuchi Certified Organic Swaddle Blanket (Value $38) Healthy Nest – Diapering Development Program (Value $105). FULL Nursery Makeover valued at $3,058 - $4,546 and will be shipped to their address within the U.S. (approximate promotional value of each item, including shipping & handling: $118) No cash or other substitution may be made, except by the Sponsor in its sole discretion.
Prizes cannot be transferred, assigned, or redeemed for their value. All prizes will be awarded "AS IS" and "WITHOUT WARRANTY OF ANY KIND," express or implied (including, without limitation, any implied warranty of merchantability or fitness for a particular purpose).
Prize Drawing for Participants. The Prize Winner will be selected at random and notified via direct message. If a potential winner does not respond within thirty (30) days of being contacted or refuses to sign and return the Affidavit of Eligibility and Liability/Publicity Release, the potential winner forfeits the prize and a new potential winner will be selected in accordance with these Official Rules. All prizes will be fulfilled approximately one month after the conclusion of the Sweepstakes. For more information on the specific drawing and randomization procedures, please send an express written request to: Naturepedic, Attn: Back to College with Naturepedic Giveaway, 16710 W. Park Circle Drive, Chagrin Falls, Ohio 44023 U.S.A. All requests must be received by August 31, 2019.
Odds of Winning. Odds of winning a prize depend on the number of eligible entries received at the end of each Sweepstakes Period.
Winners' List. The Winners' List will be compiled after the winners' confirmation process is complete and will be made available upon express written request. Please send all requests for the Winners' List to: Naturepedic, Attn: Sustainable Nursery Makeover Giveaway, 16710 W. Park Circle Drive, Chagrin Falls, Ohio 44023 U.S.A. All requests must be received by August 31, 2019.
Publicity. Except where prohibited, participation in the Sweepstakes constitutes each Entrant's consent and permission for Sponsor and its designees to use his/her name, address (city and province/territory), photograph, voice and/or other likeness for advertising, trade and promotional purposes in any and all media now known or hereafter discovered, worldwide, in perpetuity, without compensation, notification or permission.
Each Entrant consents to the collection, use and disclosure of his/her personal information for the purposes of this Sweepstakes and grants permission for Sponsor to disclose personal information to its related and affiliated companies, contractors and agents to assist in the Sweepstakes.
Release. Sponsor assumes no responsibility for: (1) technical delays or failures of any kind, (2) unauthorized human intervention during any part of the Sweepstakes, (3) technical or human error during the administration or processing of the Sweepstakes, or (4) any loss, injury, or damage caused, whether directly or indirectly, in whole or in part, from downloading data or otherwise participating in the Sweepstakes. By entering into this Sweepstakes, Entrants agree to release and hold harmless the Sponsor, Sweepstakes Entities, Instagram, and their respective subsidiaries, affiliates, suppliers, distributors, advertising/promotion agencies and each of their respective parent companies and each company's officers, directors, employees and agents from and against any claim or cause of action, including, but not limited to, damage to or loss of property, arising out of participation in the Sweepstakes or receipt or use or misuse of any prize.
Taxes. Sponsor is not liable for any tax implications arising from a Prize or from the Sweepstakes. The Winner is solely responsible for all applicable federal, provincial/state and local taxes and all other costs and expenses associated with prizes not specified herein as being awarded.
Additional Terms. Naturepedic reserves the right to cancel, suspend and/or modify the Sweepstakes, or any part of it, if any fraud, technical failures or any other factor beyond the Sponsor's reasonable control impairs the integrity or proper functioning of the Sweepstakes or, as determined by the Sponsor in their sole discretion. Naturepedic reserves the right in their sole discretion to disqualify any individual it finds to be tampering with the entry process or the operation of the Sweepstakes or to be acting in violation of the Official Rules of this or any other promotion in an unsportsmanlike or disruptive manner. Any attempt by any person to deliberately undermine the legitimate operation of the Sweepstakes may be a violation of criminal and civil law, and, should such an attempt be made, the Sponsor reserves the right to seek damages from any such person to the fullest extent permitted by law. Sponsor's failure to enforce any term of these Rules shall not constitute a waiver of that provision.
Applicable Laws and Jurisdiction. This Sweepstakes is subject to all applicable federal, state, and local laws and regulations. Issues concerning the construction, validity, interpretation and enforceability of these Official Rules shall be governed by the laws of the State of Ohio, without regard to any principles of conflict of laws. All disputes arising out of or connected with this Sweepstakes will be resolved individually, and without resort to class action, exclusively by a state or federal court located in Geauga County, Ohio. Should there be a conflict between the laws of the State of Ohio and any other laws, the conflict will be resolved in favor of the laws of the State of Ohio. To the extent permitted by applicable law, all judgments or awards shall be limited to actual out-of-pocket damages (excluding attorneys' fees) associated with participation in this Sweepstakes and shall not include any indirect, punitive, incidental and/or consequential damages.